The Food and Dance Spectacular for 2007 took place yesterday and while it remains one of my favourite days on the Canberra calendar there are increasing signs the event's character is changing in unwelcome ways. More and more groups of white anglo folks are slapping on an orange ribbon and claiming the crowds are vindicating their own narrow agenda when really the crowds are there for the food, the fun, and the beers.
As but one example, here are the Resistance types flogging Che Guevara shirts and copies of Watermelon Weekly.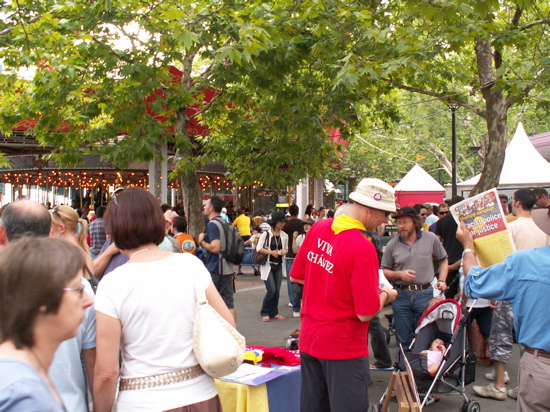 Which isn't to say you can't still get beer.
Zwiecz from the While Eagle Polish Club was a good start.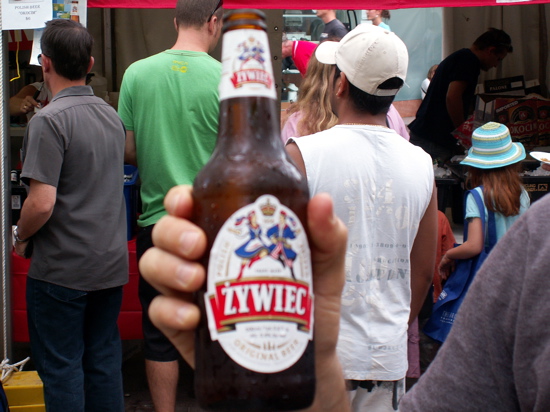 I'll just take a moment now to put in GuruJ's take on the day which he submitted as a story:
Went to the Multicultural Festival today despite expecting to get thoroughly rained upon, and had a great time.

They've closed off the section of London Circuit at the Canberra Theatre/Legislative Assembly intersection, and I think it has helped make the festival feel both larger and less cramped.

Loved the food (everyone should try Ćevapčići at least once in their lives), and I recommend the Żywiec (Polish) beer!

Oh, and to see how lucky the Festival has been not to get rained out, just have a look at this snapshot from the Bureau of Meteorology.
Back to the RiotACT team, we were lucky enough to see that rarest of things, dancers who were of a different cultural background to our own, and who were not belly dancing!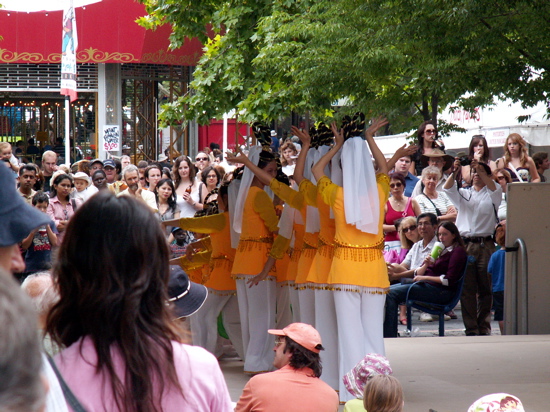 A Phillipino tent provided meat on a stick and all was well in the world.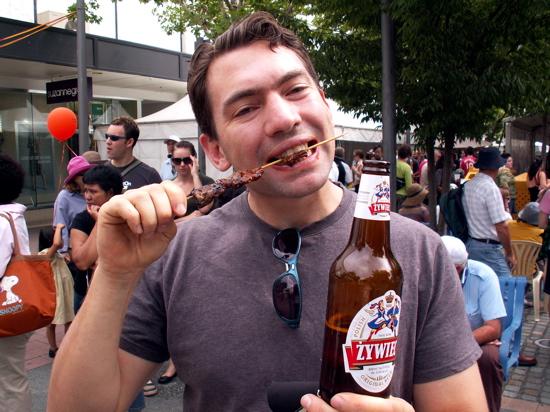 The Belgians were magnificently true to type with an astonishingly complex bureaucratic process involved to get a beer (in a plastic glass even if it came in a perfectly good bottle like everyone else was selling). Furthermore they didn't actually have any of the promised gourmet sausages.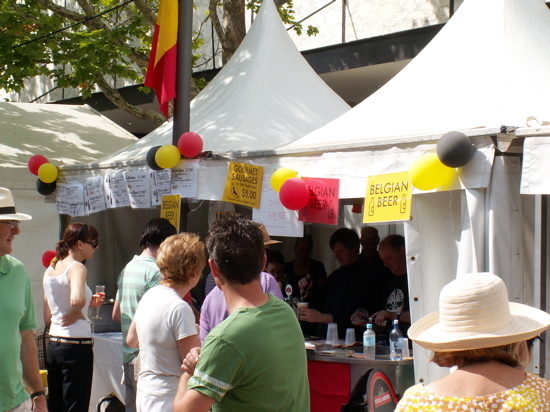 The Golden Carolus we drank did, however, knock our socks off at 8.5% alcohol.
The African Australian Association had a great stand running with their own entertainment, merchandise, interesting food, and beer from Namibia.