On Saturday afternoon the RiotACT team was kindly invited out to Christoph Zierholz's amazing brewery in Fyshwick to have a look at what he's doing out there and to inspect the product.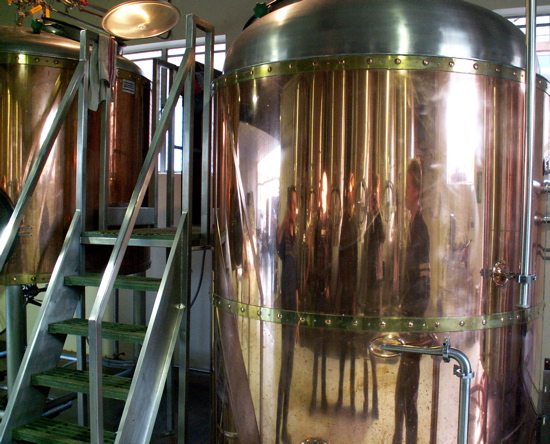 (Who are those handsome men reflected in the boiler?)
With 16,000 litres of beer brewed, and capacity to make 2,200 litres a batch, Christoph is all set to unleash his beers onto Canberra.
I've put together a little slideshow of the pictures we took while having a look around
For those only interested in the beer just head down to the end of the article, but for those wanting to see what a commercial brewery in Canberra looks like, I'll run through the slides now.
1) Here is the man himself, Chrisoph Zierholz standing next to the vat he sparges his malt in. Sadly the lovely copper is just a bling cladding and their actually stainless steel, while his gas and water bills are extraordinary his brasso bill can't be far behind. Note the long gum boots by which a commercial brewer can be known.
2) Yeast makes beer, brewers make wort (pronounced "vert") in these vessels the grain and hops are convinced to make the thick dark wort. Add water, yeast and time and you'll get beer.
3) As we pulled up we saw the sacks of grain through the window and knew we'd found the right place.
4) All that grain needs to be milled before it can make a wort.
5) I just liked the reflection in this one (slimming much!).
6) To heat the wort to the appropriate temperatures evenly requires a terrifying gas boiler unit which makes steam.
7) The primary fermenters, where the wort, yeast and water work their magic to create beer. Christoph uses Canberra's wonderful drinking water, after running it through a filter. These glycol-jacketed primary fermenters allow different batches to be fermented at different temperatures.
8) Home brewers use a dinky piece of curved plastic tube about 7cm long as an airlock on their fermenters. In this somewhat upscaled set-up sixty litre bins and flex hose is required.
9) Inside a very large cool room the secondary fermenters lurk. No need for individual glycol jacketing as the temperature for secondary fermentation is standard.
10) These are the distinctive black kegs the Zierholz beer is being shipped in.
11) The $18,000 concrete floor was no simple thing to get built into a Fyshwick warehouse.
12) Behold! A golden kölsch greatly enhances the Fyshwick skyline.
Currently Christoph is selling two beers, a light summery kölsch and a darker "alt". You can get Zierholz at Debacle right now with the Durham soon to follow. (If you fancy supporting a Canberra brewer producing excellent beer then be sure to ask your local why you can't get a Zierholz from them)
The Riot beer review panel convened around a couple of kegs to prognosticate.
In our view the kölsch is a crisp, perfumed summery beer with hints of passionfruit. A lot of "award beers" tend to concentrate too much on the first mouthfull and not on being good to the bottom of the glass. This is a problem that Christoph has been anxious to avoid, producing "session beers" intended to be drunk in serial.
The alt is a real find. It recalls James Squire's amber ale, but with a sweet taste with hints of walnut, chocolate, and just a hint of smoke. Jazz observed that the alt was making him lust for a sauerkraut and kransky to go with it.
We were very impressed.
Christoph is currently working on selling direct to bars, but is actively investigating selling mini-kegs direct to the public. He can be reached via email at: christoph.zierholz@gmail.com.