Tom Woodward publicly maintains that he's not trying to be a Bob Dylan tribute act. But sometimes you have to wonder if that's just taking the piss. I mean really, what would Dylan do?
Tom's latest album .32-20 Blues is, I suspect, an attempt to make a case that he merely shares influences and has arrived at the same place as Dylan, rather than being a knock-off.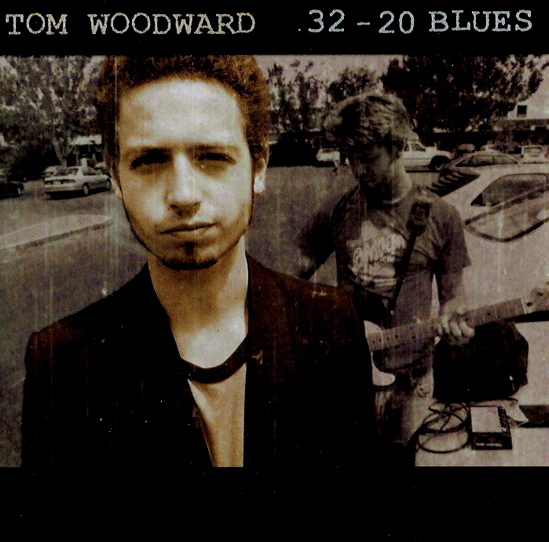 (As a bonus, those wanting a preview listen can grab an mp3 of "Red Sally", taken from the album, here)
For those who haven't noticed the current enthusiasm for all things Robert Johnson sweeping popular media I'd advise starting with his Wikipedia Entry.
The name of this CD is that of a Robert Johnson song which appears as the third track. For those who came in late I'll quote from Robert Rankin's latest book The Brightonomicon which is a good summary of the mythology (if not the reality) surrounding the man.
'Robert Johnson," said Hubert, 'blues musician – ever heard of him?'

'Actually I have," I said. 'He wrote "Cross Road Blues" and "Me and the Devil Blues" and "Hell Hound On My Trail" and "Love In Vain" – the Rolling Stones recorded that one. Just about every rock musician today pays homage to Robert Johnson. They say that he started the whole thing, put it all together – the notes, the chord progression, the lot.'

Hubert nodded. 'You're absolutely right. So let me tell you this. The story goes that Robert Johnson wasn't much of a guitarist, but he wanted to be the best, to be remembered. So we went down to the crossroads at midnight with a black-cat bone and sold his soul to the devil. The Devil tuned Robert Johnson's guitar–'

'I remember reading this somewhere,' I said. 'From then on he always played with his back to the audience. Folk who looked at him from the stage side of the curtain swear that he had six fingers on his left hand'

Hubert nodded. 'When Keith Richards first heard Robert Johnson's recordings – and he only recorded twenty-nine songs, all in a hotel room, with his back to the recorder – Keith Richards said, "Who's the other guitarist playing with Johnson?" because one man alone simply couldn't play all those notes at the same time.'

'Spooky Stuff,' said Fangio.

'There's more' said Hubert.

'Go on,' said Fangio.

'I was going to say that I said.

'Robert Johnson met with an untimely death,' said Hubert. 'Murdered by a jealous husband, they say. Or perhaps the Devil claimed his own. Perhaps he always claims his own.
Incidentally, my reading of the liner notes seems to suggest Tom played .32-20 Blues on his lonesome… or is that with the Devil?
In any event Tom has invited comparison and I think the following excerpts from the wikipedia entry on Johnson are relevant:
Johnson is known as "the greatest blues singer of all time" or even the most important musician of the 20th century, but many listeners are disappointed by their first encounter with his work. This reaction may be because of their unfamiliarity with the raw emotion and sparse form of the Delta style or because of the thin sound of the recordings when compared to modern music production standards. Johnson's guitar work was adroit and his voice was high-pitched.

…

An important aspect of Johnson's singing, and indeed of all Delta Blues singing styles, and also of Chicago blues guitar playing, is the use of microtonality — his subtle inflections of pitch are part of the reason why his singing conveys such powerful emotion.
And those qualities are all here on this CD.
However what this CD has which most blues does not is a sense of narrative in the lyrics. If, like me, you like your music to have a story as well as a beat, then you're probably going to like it.
Let's move through the songs:
Red Sally

Available online as an mp3, with Tom's kind permission. This is a mopey song of love, despair, and redemption featuring slide guitar. But it's got just enough purpose in the beat to make you think there really is light at the end of the tunnel.

Give Me Some Mercy

Changing gears we get a driving beat and an almost rap-style as Tom paints micro-portraits of the scum of the earth and their cries for mercy. Humanising a wide variety of miscreants is a brave approach, but one that seems to work. As you find yourself crying out for mercy as you join in the chorus it feels almost cathartic as you descend into the mire.

.32-20 Blues

The title track slows the pace right down. It's a song about heartbreak and vengeance. Again the character is, on the surface, unsympathetic and yet over the course of the song you come to feel the pain.

For the curious the .32-20 is a type of bullet. Originally used in repeating rifles it was adapted to a series of particularly large revolvers.

Pop Star Girl

Just when we think this journey is going to crash into the swamp, Tom gives us a more upbeat number. I don't know if Tom's actually been having affairs with any pop stars, but he paints an authentic picture of being trapped by success and yet at the same time unwilling to give it up.

Caught Out In The Rain

It starts almost like a Johnny Cash number and then evolves into a warmer song about finding love, of a sort, on a train, in the rain, and then never quite finding the way home (again).

These Days

An unambiguously Dylanesque number to finish up with. While slower paced than "Tangled Up in Blue" the narrative progression is very similar, as is Tom's phrasing.

It's a nice way to finish the journey
So what you've got here is a snappy little unit that you can snap up for a mere $10 if you email Tom (tom@thehenchmen.net) or catch him at one of his shows.
Turn down the lights, light a candle, and have a chill to this one.
(Note for our Liberal Party readers: if the PM does like Bob Dylan, as much as he said he does, then this might make a nice little present)