This is Pepe's Paperie in the Canberra Centre.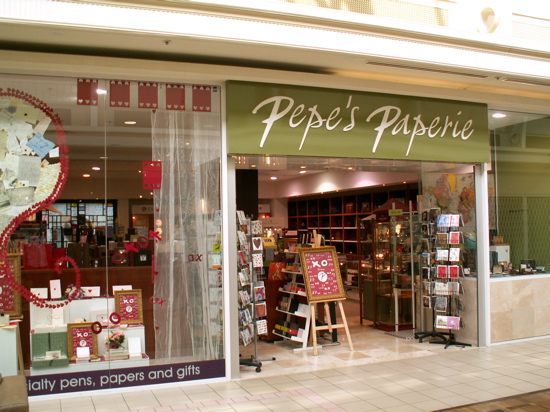 And this is Pepe with his store manager Stewart and salesperson James (left to right, we're told that a Lisa also works there but she was away on the day we came by)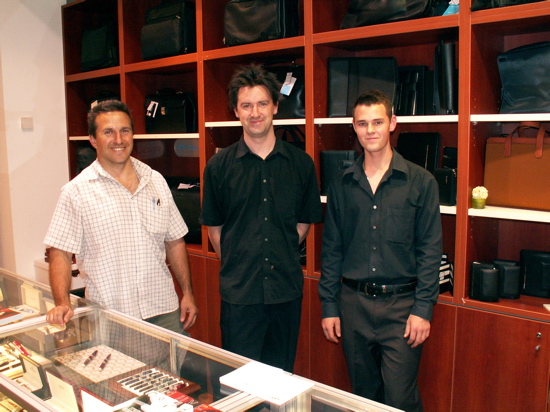 It's a store with a lot of paper, pens, and things that go with paper and pens.
Seven years ago Pepe Ianiello left paid employment to start his own art supply store in Colbee Court Phillip employing a couple of people. Today he has a string of stores under the umbrella of Pepe Investments employing 85 people:
– The Art Store
– The Craft Store
– The Framing Store
– and Pepe's Paperie
Jazz and I sat down to talk to Pepe specifically about Pepe's Paperie although the conversation inevitably strayed towards the running of a burgeoning business empire. The audio of the interview is available for those of you who want the whole story (and the intriguing background noises of the Canberra Centre).
At the moment there are three Paperies; one in the Canberra Centre, one in Westfield Woden, and one in the Westfield Bondi Junction. Despite the wailing and gnashing of teeth we hear about the way major shopping centre chains treat small vendors, Pepe was glowing about his relationship with centre management at all locales and the benefits of the passing trade for a luxury goods retailer. He's busy with plans to expand the outlets across Australia with a Melbourne store set to open by the end of the year.
At any given time one of his stores will hold between $300,000 and $500,000 in inventory. Luxury pens made from the ivory of preserved wooly mammoths or solid pieces of amber do not come cheap, but they do tend to keep well. They don't expect to sell a $10,000 pen more often than once a year. For the merely stunningly expensive pens, worth just a few multiples of a thousand dollars each, they sell about one a month. Intriguingly the pen collectors who pay this kind of money tend to also be watch collectors.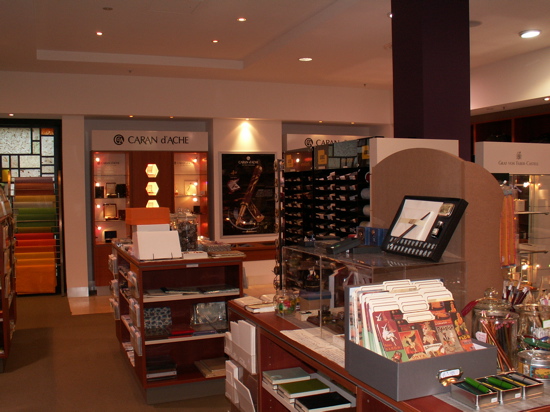 A consistent strategy of Pepe's has been to take a segment out of larger stores (he cited Lincraft and Spotlight) and expand the range of products within that segment while deepening the specialisation of the staff.
While he's tried the Canberra Times and Seek for recruiting, at the end of the day the people attracted by those ads weren't what he was looking for. The vast majority of his 85 staff came to him from word of mouth and many were customers before they made the leap to the other side of the counter.
As a father of small children he struggles to compact what would otherwise occupy his every waking hour into a 9-5 five day week to be able to do the family thing.
Pepe's enthusiasm for his products was infectious through the course of the interview, it seems that every day is Christmas for him as he gets to unpack new stock that enthralls him. His passion for stationery and art supplies dates back to when he was just 10 years old and now his ice cream buckets full of pens have grown to be a number of large and well stocked stores.
His aim in the Paperie is to sell lines of products that can't be found elsewhere. To that end they don't sell Mont Blanc, Parker or Waterman pens and regard the esteemed Cross (disclosure, I own two Cross pens, as does my father and I bought one for my girlfriend) as their entry level manufacturer.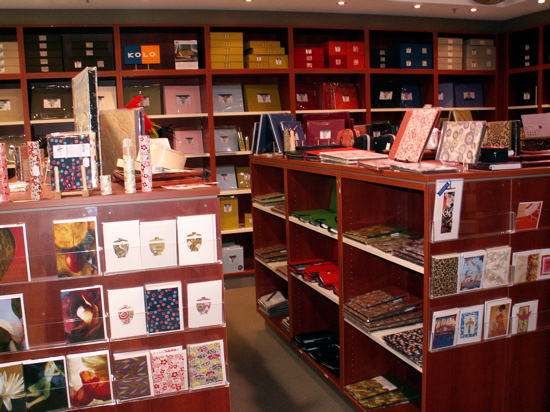 The rise of email and the cheap inkjet printer has killed the mystique of the typed word in favour of the hand written note and Pepe's Paperie is surfing that wave. Pepe views part of the store's mission as re-educating the public on the nature of these finer things. It's certainly no coincidence that a public so educated will come back to his store.
Rarely at rest it seems Pepe currently has a number of major projects on the go.
Pepe Investements is in the middle of outsourcing payroll administration, something he wishes he'd done a long time ago having suffered a bit of the boiled frog syndrome as his staff has expanded.
As mentioned above, they're expanding the number of Pepe's Paperie outlets interstate.
They're also in the process of developing their own custom line of stationery which they're going to try to manufacture here in Canberra. Pepe says keeping the money in Canberra is what business in Canberra is all about. He's trying to avoid walking the China path; aside from just supporting the local community there is the matter of manufacturing responsiveness and also the substantial cost of shipping a product as heavy as paper.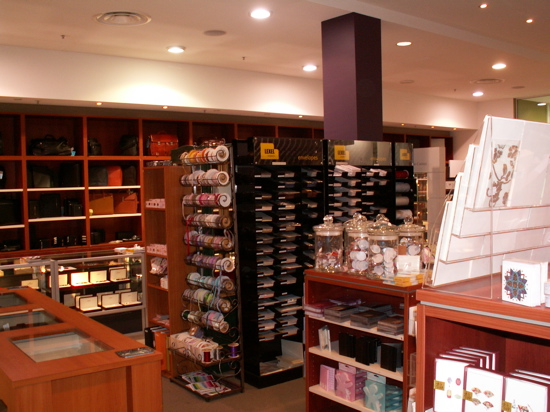 The internet is an area they're looking to expand into in the future. While the looking and touching element of a store (especially for buying a pen) is hard to beat, he has hopes of getting return business and selling items like ink refills and resupplying paper stocks for his more remote customers.
They're in the middle of installing an internet based point of sale system which will give head office realtime sales information from all the stores.
In terms of the competitive threat of the internet, he's certainly wary of new operators springing up online with crazy discounts, but at the prices involved people tend to like to know where the pen has come from and who they can return it to if something goes wrong.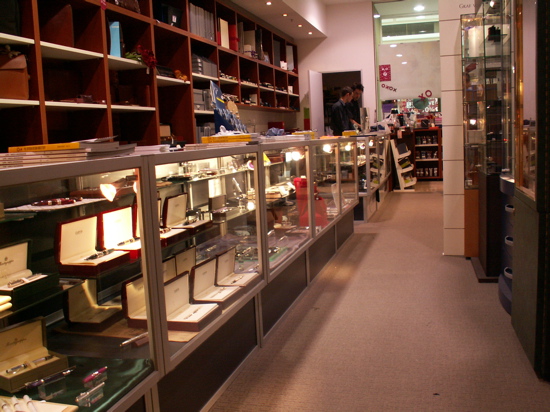 On the subject of Government, Pepe seemed to take the view that he's doing pretty well out of the current regime and has few complaints. Like most business owners we've talked to he is rather pleased with the opportunities offered by the new industrial relations regime.
On that note, he's in the process of looking at flattening his employees' pay structure and doing away with penalty rates. Pepe argued that it's actually unfair with casuals to pay time and a half to the employee who's only available to work one day a week if it happens to be Sunday. He'd prefer to pay a higher rate to the staff who're putting in the same work through the week.
When asked about risks, Pepe spoke with a fair degree of passion about his fear of insolvency, not just for himself or his family, but for his staff and suppliers. That's a big driver of his desire to improve the backends of his numerous stores.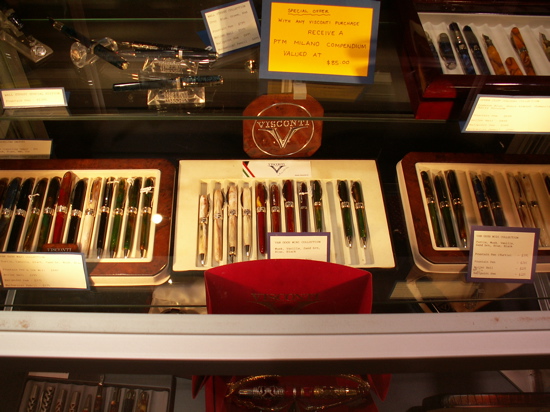 For those thinking they want to get into a specialist retail business Pepe recommends finding the relevant trade fairs and going to a lot of them, both in Australia and overseas. He stressed the importance of the fairs for building relationships with suppliers.
* RiotACT receives no inducements or considerations to produce business profiles. If there's a local business you'd like to see profiled here email business@the-riotact.com with their details and why you think they're interesting.
The feed for podcatching the audio of this and future Business Profiles (~30mins) is http://the-riotact.com/wp-rss2.php?cat=46