The Food and Dance Spectacular for 2007 took place yesterday and while it remains one of my favourite days on the Canberra calendar there are increasing signs the event's character is changing in unwelcome ways. More and more groups of white anglo folks are slapping on an orange ribbon and claiming the crowds are vindicating their own narrow agenda when really the crowds are there for the food, the fun, and the beers.
As but one example, here are the Resistance types flogging Che Guevara shirts and copies of Watermelon Weekly.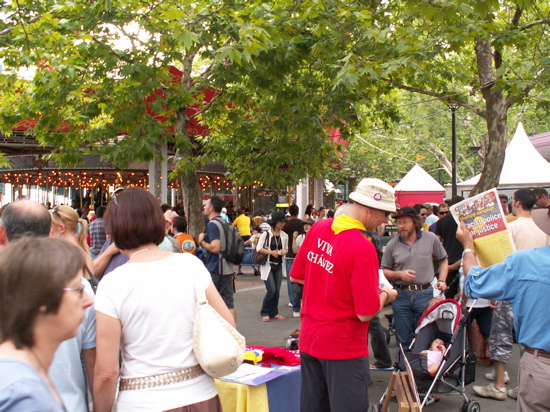 Which isn't to say you can't still get beer.
Zwiecz from the While Eagle Polish Club was a good start.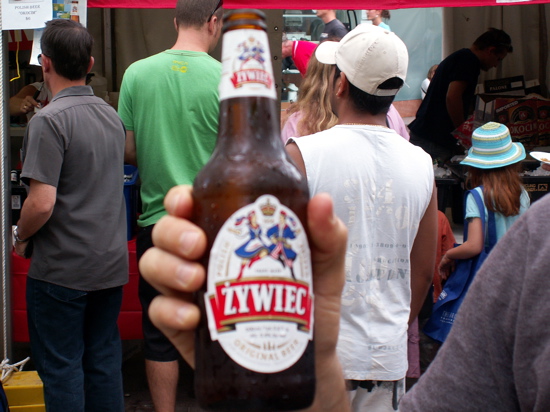 I'll just take a moment now to put in GuruJ's take on the day which he submitted as a story:
Went to the Multicultural Festival today despite expecting to get thoroughly rained upon, and had a great time.

They've closed off the section of London Circuit at the Canberra Theatre/Legislative Assembly intersection, and I think it has helped make the festival feel both larger and less cramped.

Loved the food (everyone should try Ćevapčići at least once in their lives), and I recommend the Żywiec (Polish) beer!

Oh, and to see how lucky the Festival has been not to get rained out, just have a look at this snapshot from the Bureau of Meteorology.
Back to the RiotACT team, we were lucky enough to see that rarest of things, dancers who were of a different cultural background to our own, and who were not belly dancing!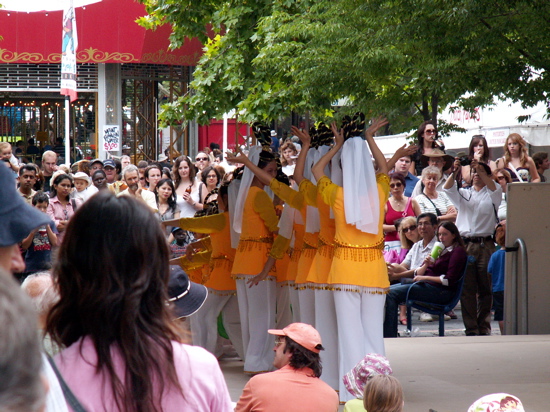 A Phillipino tent provided meat on a stick and all was well in the world.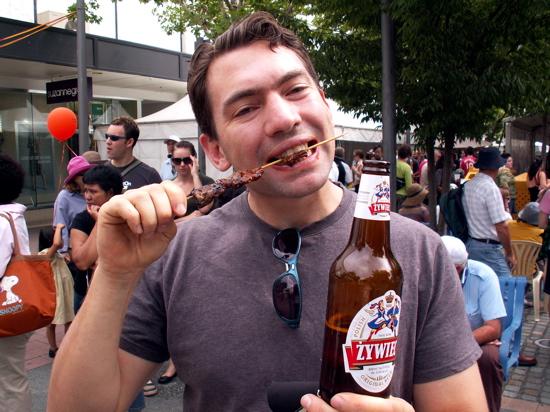 The Belgians were magnificently true to type with an astonishingly complex bureaucratic process involved to get a beer (in a plastic glass even if it came in a perfectly good bottle like everyone else was selling). Furthermore they didn't actually have any of the promised gourmet sausages.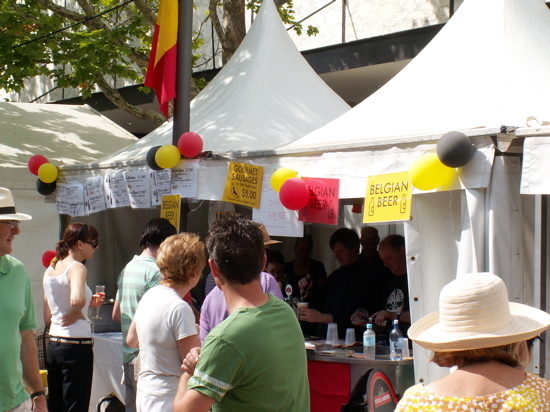 The Golden Carolus we drank did, however, knock our socks off at 8.5% alcohol.
The African Australian Association had a great stand running with their own entertainment, merchandise, interesting food, and beer from Namibia.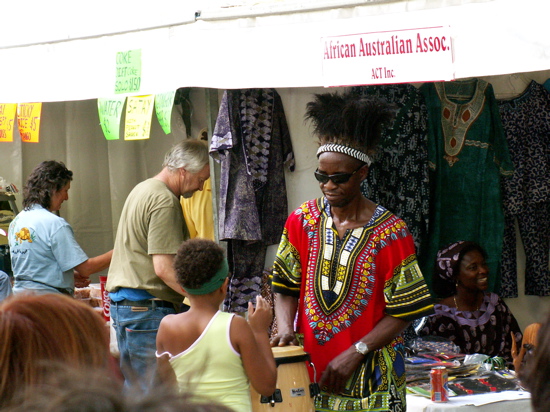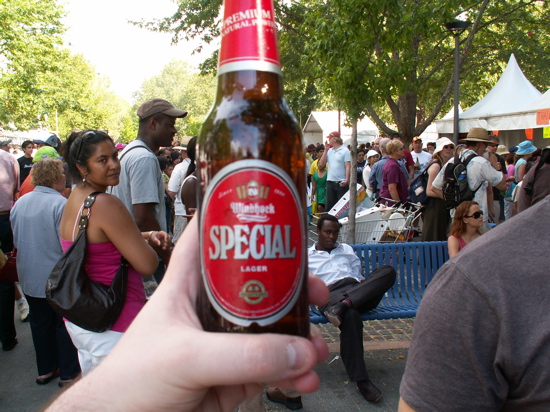 And then there was an endless series of anglo girls jiggling their bits as belly dancers.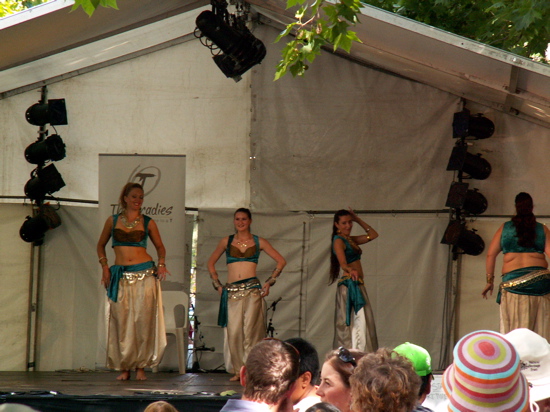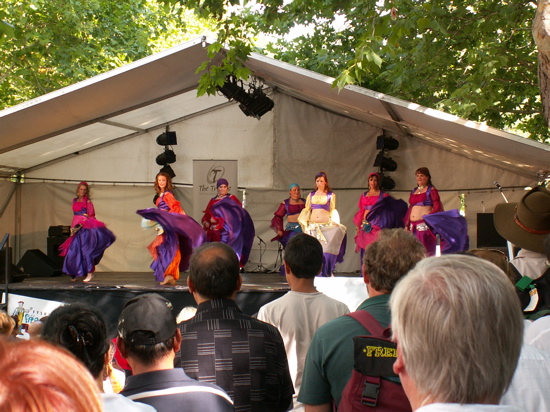 Washed down with a Turkish Pilsener.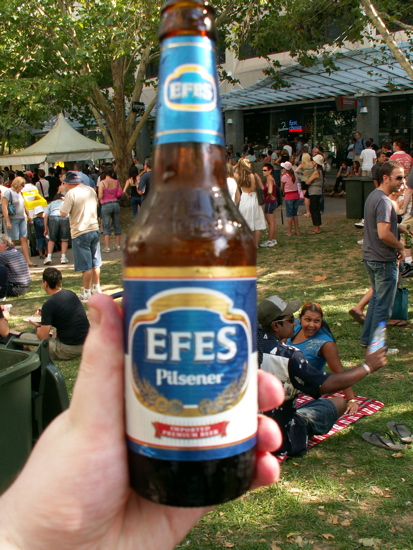 For reasons passing understanding the European Commission was given a vast amount of space to be earnest and not at all multicultural in.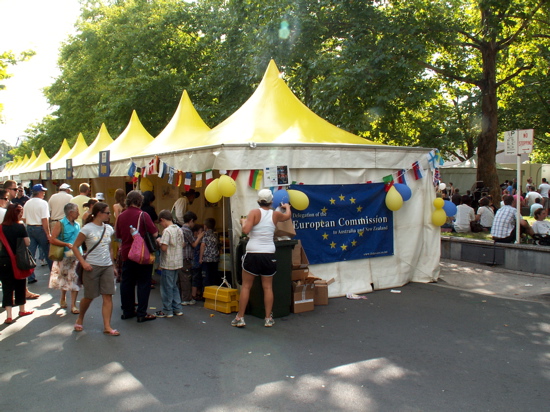 Where once you had dozens of vibrant distinct groupings with unique traditions now there rises one single dour circle of stars. The EU countries had their own spaces under the distinctive yellow tops. Were they entertaining us with food? music? beer? Were they celebrating their place within the Australian community? Nothing like that, it was all tourism promotion. And it was the emptiest of spaces in the very heart of the event.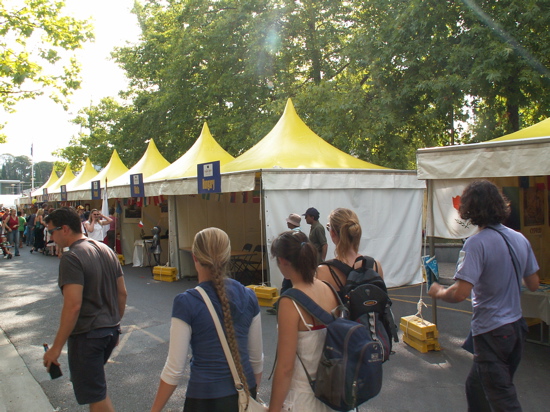 With London Circuit blocked off, efforts to inject life into Civic Square were quite successful, at least for this one day. I can't help but think that if the EU wasn't taking up so much space the whole of it would have fitted onto Ainslie Avenue. Those of us smart enough to cycle in had no problem, but for people trying to find a park for the event it was a severe embuggerance.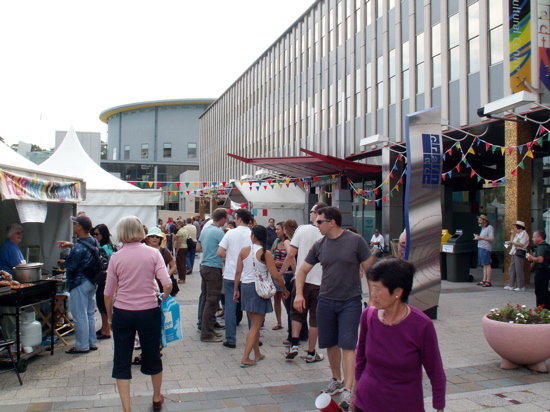 The so called Fringe stage was dishing up karaoke. Multicultural karaoke? Well some of the singers were of vaguely unusual extractions, but their songs were middle of the road western pop.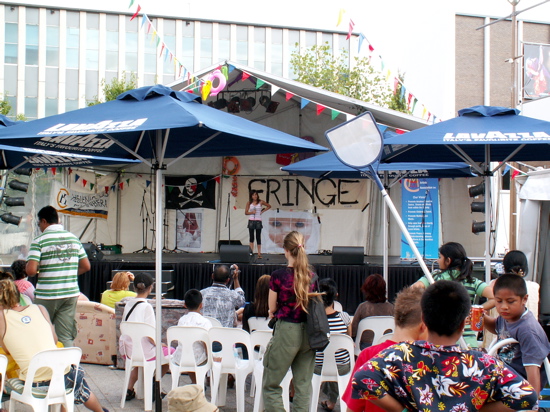 The sandpit in the square was quite a hit with the kids.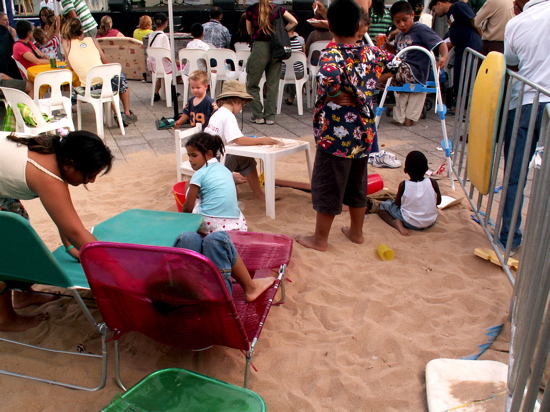 The South Africans were doing a great sausage inna bun with perfect onions and some sort of sweet dark sauce. The suprise was the Savannah cider they recommended (we thought it was beer until we drank it). With a lemon wedge to cut through the sweetness is was a seriously refreshing drop.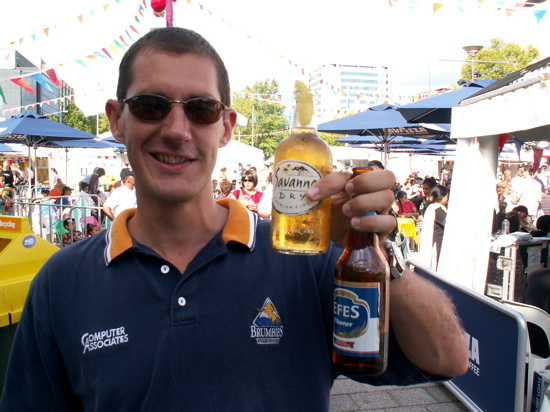 The view from above tells the tale: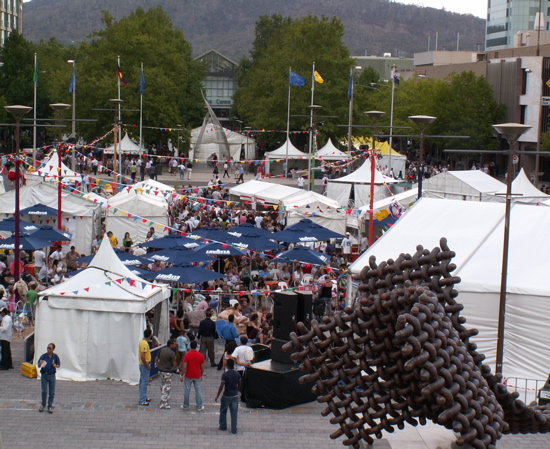 Why were there three onions by the fountain? Why not?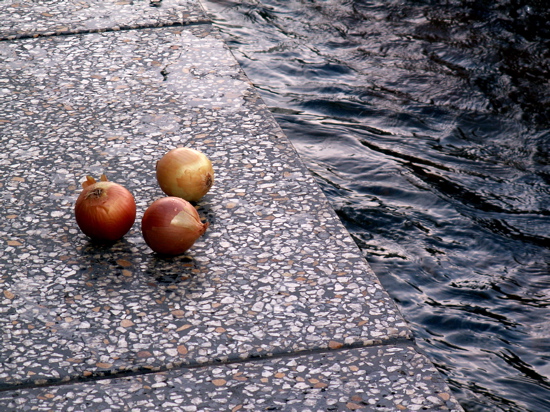 And for one glorious day of the year fountains were used the way god intended.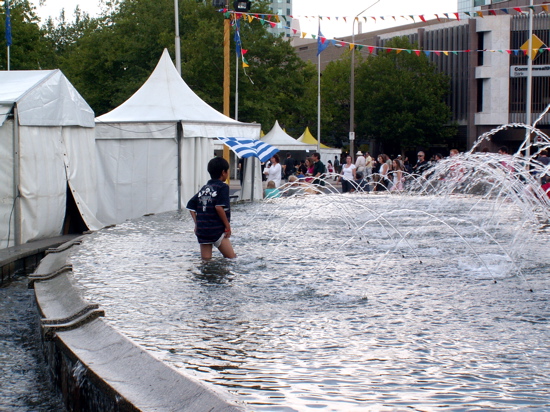 The Canberra Times fountain is fixed, but appears to still be a bit skewed.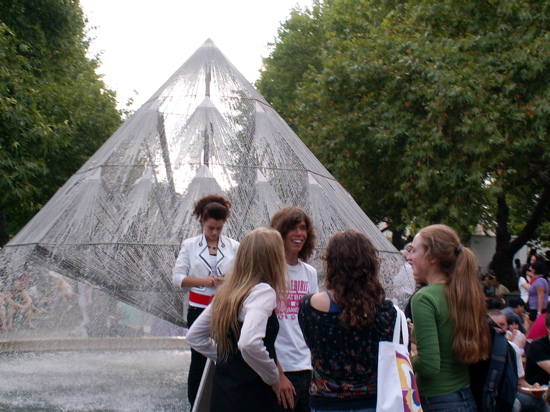 Belly dancers rushed to and fro, there being, it seems, no known cure.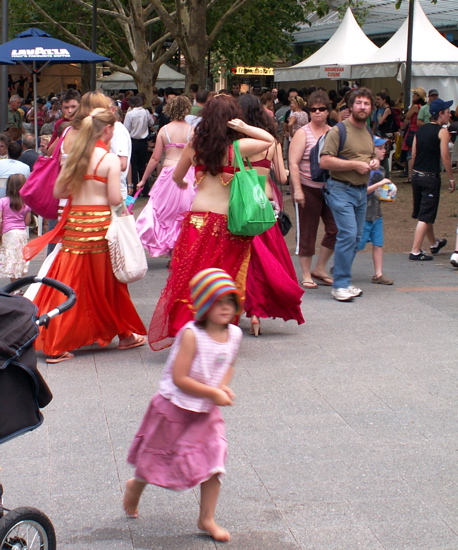 And the best entertainment was of the unplanned variety. These girls were coated in white greasy substance and made a point of shaking hands with everyone they could, not entirely pleasant to get one's sausage eating hand coated in a chalky grease.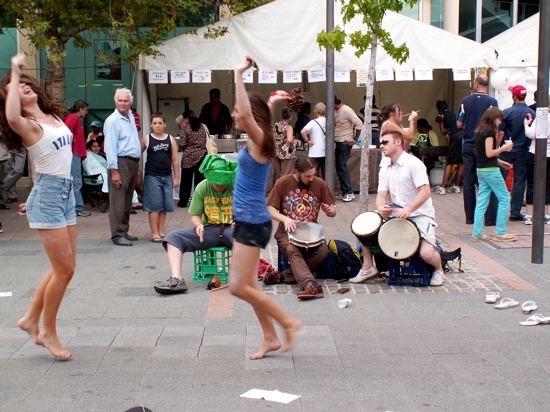 While not adverse to celebrating our flag, I did wonder why you'd go the length of wearing matching flagged bucket hats to a multicultural festival, surely it's not a symbol of identity if we're all celebrating being Australians?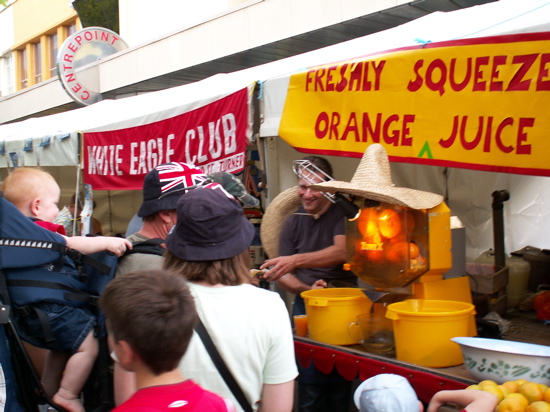 Finally, even with Canberra's best party going off all around, people will throng to the bland certainties of Starbucks.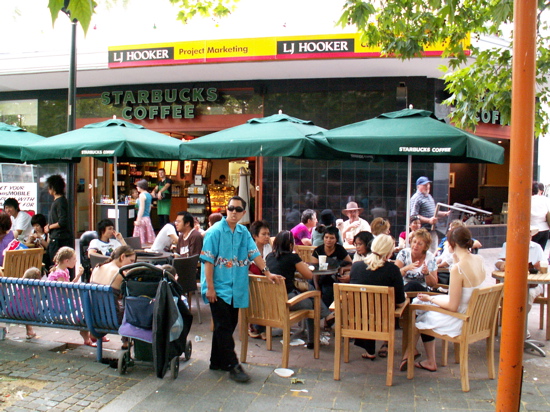 We can only hope that in future the organisers will strip it back to things people actually want (community groups sharing their culture) and strip out the cruft that's accumulating around it (recruiting stalls for sundry organisations ranging from the police to the Labor Club). And please, please, please, tear out the acres of propaganda space given over to the European Commission.