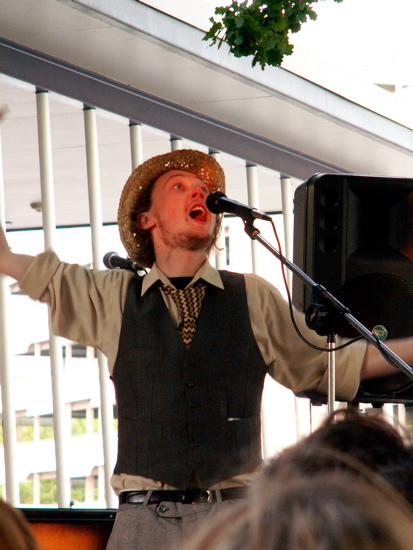 Normally here I try and limit reviews to things there's a reasonable chance the readership can go and see for themselves. But today I'm making an exception.
A Bunch Of Fives has been a regular fixture on the second Friday of the month for years now. Finish work, get down to the Street Theatre, sit under the trees in the dusk sucking down reasonably priced beer and get entertained by a series of actors and musicians.
But the Street Theatre has decided it doesn't want it any more. And in his last email invite the Bunch of Fives maestro, Jorian Gardner even went so far as to include me in his list of fake quotes:
"A Bunch of Fives is one of the best things about Canberra….that and Jorian's ass"
John-boy, RiotACT
So how could I possibly stay away? You know you've truly arrived in this town when Jorian starts putting words in your mouth.
So here's some pictures and music from the evening, the audio was taken in the middle of the crowd and gives a good feeling for the hubbub:
It wasn't as raucous an affair as some in the past, too many feelings of loss and finality.
But it still had the ability to make the audience laugh and smile, and to feel sad, and to reflect, and then laugh again.
Best of all it was another glorious evening under the trees, outside the theatre, sucking down beers and nibbling on finger food.
There will be other things, other events, to entertain us. But for now it's a little sad.
Whatever the Street Theatre puts on in its place had better be seriously cracking.
[Loadedog's take on events is also online.]