Here is a reminder to those who may have forgotten the events of only a few years ago.
[ED – a piece of writing by Thumper and here's picture Miranda took in Forrest last night]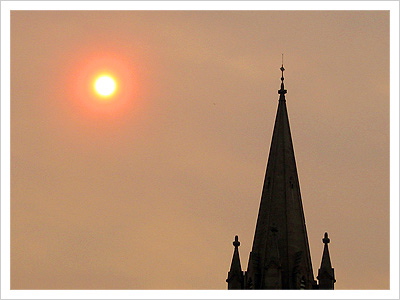 After the Dragon
Sunday morning is hot and still, almost as an epitaph to the events of the day before. At the depot I wait in the hazy early morning air and smoke a number of cigarettes before the team arrives. They are tired and dirty from the previous night with a slight look of disbelief reflected in their eyes. After loading the Landcruiser with equipment we drive to Curtin where the staging post is located. Above us the sky is a dirty brown as we pass roadblocks, deserted streets and burnt out paddocks. Small fires still burn next to the roads and everything appears charred and grey or black. Occasionally a police car comes speeding past, but apart from that, the roads are silent.
Along the Parkway tired and blackened fire crews work at extinguishing small fires that still burn in the now naked and blackened forests. Smoke hangs languidly and ominously in the air. A reverent silence seems to pervade everything as the team is quiet and reserved with none of the usual banter and chatter that usually takes place on operations.
From Curtin we deploy to Kambah where a massive fire and windstorm has destroyed a large area of housing. The damage is unbelievable. Driving through what appears to be a normal suburban setting on a Sunday afternoon we are greeted by an urban warzone of burnt and uprooted trees, roofs destroyed by massive fallen gum trees, cars melted and burnt where they have been abandoned, and smoldering black and grey ash where lawns and gardens once flourished, green and lush. People appear to move in slow motion.
We cannot help. The damage is simply too severe. And yet our presence seems to lift the spirits of the residents that now wander aimlessly around the devastated suburb. We do what we can and then move on to the next task. By late afternoon the sun sits low and menacing like a bloated and over-ripe orange on the horizon.
The next seven or eight days are a blur. After a while we no longer know what day it is, the only constant being the staging post at Curtin and the depot in the hazy early mornings. A tent at Curtin oval that is constantly buffeted by landing helicopters, big and grey like fat angry dragonflies, becomes our home, our refuge away from the world outside that still seems somehow unreal, and as if we are simply bit parts in a never ending Hollywood movie. The TV cameras and crews do not help in this regard.
The following days are hard and hot and smoke pervades everywhere we go. Kambah where we render storm damage as much as we can, Duffy were we see the full extent of the fires, walking slowing through still burning houses and gardens while turning off water mains. Tidbinbilla, with charred wildlife littering the roads and black and desolate bush as far as the eye can see. The workshop at Kambah that is filled with destroyed vehicles that have melted onto the black tarmac where they had sat when the fires raged through. And Eucumbeme Street where remarkably some houses still stand, untouched by the carnage amongst the blackened and twisted ruins of someone's life.
I walk slowly around the desolation that surrounds me, feeling as if I have intruded onto someone's untold sacred ground in some ironic voyeuristic way. A feeling of almost complete helplessness seems to be evident in everyone's quiet and whispered comments, as if we are afraid to again awake the slumbering dragon that has rampaged through this area the day previous.
I walk past another smoldering pile of rubble and brick that was once someone's home. There is an incredible lonely quietness yet my boots crunch obscenely in the grey black ash that lies everywhere. A photographer attempts to take some photos of us working but we are tired and somewhat disgusted by his attitude. He leaves without his photographs as distraught and shocked residents stare vacantly at what had once been their homes.
We drive into the staging area late one afternoon and collapse under that great tent. Around us firefighters, both rural and urban, and Emergency Services personnel seem to be everywhere, exhausted and dirty, their eyes slightly unfocused and staring into the distance as if they can see something that no one else can. And the myriad of staff that man the staging area, tired and irritable but still showing humour in the situation as they cook lunches and dinners for all those involved as well as ensuring vital supplies are ready for those coming back to this small, safe haven. Army and Navy pilots and others, sitting in deckchairs, wait for their orders to deploy. St John's Ambulance walk around distributing saline solution for people's stinging eyes, and others, all tired and dirty and somehow detached from the whole event.
And yet there is still the humour that such a situation brings out. Our Commander commandeers an ACT Corrective Services vehicle, which we quickly make our own by using gaff tape to give it a designation and to make it look like an ACTES vehicle. And later when we run through a local supermarket looking for an Australian flag to place on the vehicle aerial, only to find that they rip off as we drive along. And the droll, dry jokes and banter that we hear from emergency services staff and colleagues wherever we go.
One night I arrive home exhausted and sore but cannot sleep, spending the night staring at the ceiling until the dawn creeps in slowly bathing the roof in an eerie orange light that tells me it is time to get up and go once again. I find my dirty, worn and faded overalls and fill my canteens before going outside where I sip on bitter coffee and smoke another rough tasting cigarette. The day starts, another place, another time, more exhaustion, more laughs and tears, more of the most incredible teamwork I will ever see.
After a week or so we are stood down, in fact, ordered to stand down. We are tired to the point of exhaustion. Some of the team has been affected by smoke inhalation and are treated at Calvary hospital. That night we get very, very drunk.
And then it is over and the brown hazy skies clear. And with it comes a sense of relief, and release from this emotional and physical rollercoaster that we are on. Although I have contributed relatively little in the overall scheme of things, it still feels strange to go home and sit down in front of the television, or to read a newspaper, or to do anything normal. Something now seems to be missing, almost surreal. What is normality has been replaced by a different reality which had in itself has become normality. This detachment slowly subsides in the days after the fires but something intangible within our psyche and our outlook has changed forever. For a fleeting moment we have seen heaven and hell and in so doing have found the real purpose of life.
These were the darkest of days, but in a perverse way, also the greatest of days.