The Greens are kicking off their concerted effort to win seats in the Senate and have sent in the following for those with an interest:
ACT GREENS FEDERAL ELECTION CAMPAIGN LAUNCH & CONCERT

SATURDAY 12 MAY 8PM, TILLEY 'S CAFE GALLERY, LYNEHAM

Lead Senate candidate Kerrie Tucker will introduce our fantastic Greens team of ACT candidates
Margret RoadKnight & Jeannie Lewis will launch our campaign with an inspiring concert

Plus surprise events
Celebrate the powerful vocals, wit and wisdom, flair and soul of two of Australia's greatest performers. Margret RoadKnight and Jeannie Lewis first collaborated 40 years ago, and their paths have continued to cross as they've explored political songs, gospel, world music, cabaret and other styles.


Tilley's plays host to the perfect launch of our campaign to see Kerrie Tucker elected as Greens Senator for the ACT, and immediately change the balance of power in the Senate.
Greens members $25, Others $35

Available from ACT Greens 8-10 Hobart Pl, Civic T: 6247 6305, and at the door, Tilley's Cafe Lyneham
Authorised by Roland Manderson for the ACT Greens 8-10 Hobart Place, Canberra City 2601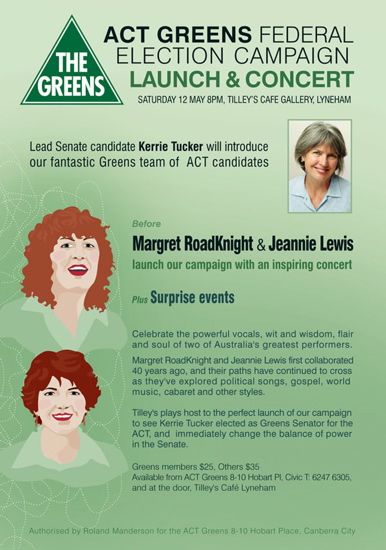 If they can fill Tilleys at $35 a head it starts to look like real money.