On Saturday 08-APR-06 we did the Civic Public Art Walking Tour and lived to tell the tale.
And so, I present to you item # 23, Ainslie's Sheep by Lee Kossatz. It's at the intersection of City Walk and Petrie Plaza and I know you've all been waiting for it.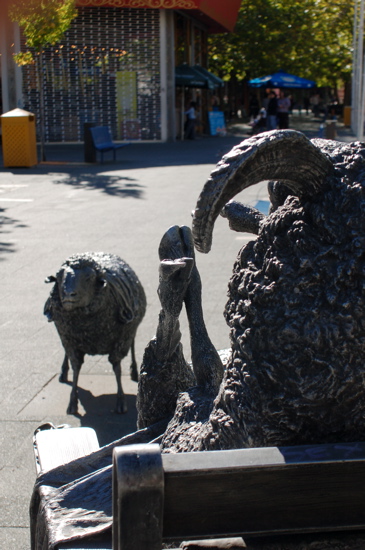 The guide says:
The embroidered waistcoat on the chair arm
refers to Ainslie's flamboyant dress sense,
and to an incident when his clothes were
stolen by bushrangers. According to the story,
Ainslie pursued and caught the bushrangers
and retrieved his favourite waistcoat.
It doesn't explain why the sheep look like they're about to make dirty and unnatural love.
Got an image in, or of Canberra you want to share with the world? Email it to johnboy@the-riotact.com