At the bottom of Dundas Court, Phillip, on the old Woden Transport Depot building, has appeared some graffiti. It's a retro image that harks back (as retro tends to) to an earlier age of video-gaming.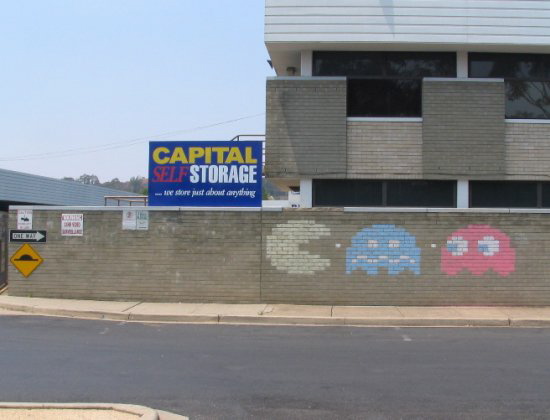 I'd like to congratulate 'TWO DUMB KIDS', who I'm assuming did this, as that phrase appears next to Pinky.
With this simple, but effective, image they've brightened up the area considerably. They've also chosen chalk as their medium which means that it can be more easily removed if someone wishes. Though I do hope no-one wants to remove it. Let's just let the weather do it for us, hmm?
I'm hoping to see more work like this around Canberra. It sure as heck beats tagging; and is less of a vandalism issue than those that use paints.