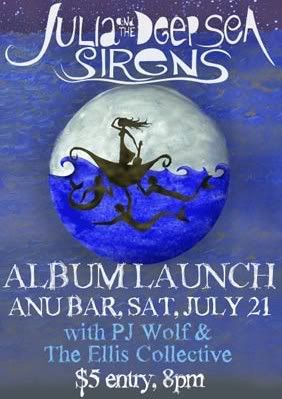 DEBUT ALBUM FROM CANBERRA'S JULIA AND THE DEEP SEA SIRENS RELEASED ON JULY 21.
Local band Julia and the Deep Sea Sirens have stepped out of the studio with their self-titled debut album.
Julia began playing solo with her self-penned tunes in local venues when she turned 18, and soon gathered a collection of some of Canberra's most talented young musicians to form Julia and the Deep Sea Sirens. Now, all aged between 20-22, the band have recorded their first album, a special weave of Julia's tunes mixing contemporary folk with shades of rock, country and pop.
Recorded at Artsound Studios in Manuka and mastered in Studios 301 in Sydney, the album will be released on July 21 at the ANU Bar, with supports PJ Wolf and the Matty Ellis Collective.
Julia and the Deep Sea Sirens are
Julia Johnson (Vocals, Acoustic Guitar), Lindsey Bush (Electric Guitar), Matthew Smith (Bass), Nicholas Peddle (Drums).