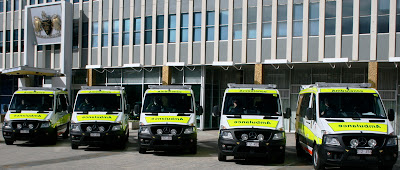 Last week Simon Corbell unveiled five new ambulances.
Considering they take the total up to 20 this is a major addition.
"The three extra ambulance vehicles and two replacement vehicles have been provided by the ACT Government at a cost of $910,400. The five new vehicles – four Intensive Care Ambulances and one Patient Transport Unit – feature:
improved high-visibility markings;
LED warning lights that use new technology to draw greater attention to the vehicles under emergency conditions;
orange "low-glow" exterior lighting to improve visibility at night;
new module designs to facilitate the introduction of new and emerging pre-hospital technologies; and
reversing cameras."
And they're Mercedes, noice.
UPDATED: Also while in the neighbourhood Simon Corbell is calling on you all to get CPR qualified.