ACT Policing is investigating an incident in Whittle Street, Hughes in the early hours of this morning (May 10) when a man was shot and later died.

Police were called to the scene around 12.30am. The male victim received emergency treatment at the scene by ACT Ambulance but later died.

The victim appears to have suffered a single gunshot wound.

A crime scene was immediately established at the location and a large portion of Whittle St has been cordoned off to allow AFP Forensic Services and ACT Policing detectives to conduct their investigations.

This investigation is likely to take a number of hours during which time access to the Whittle Street area behind the Hughes shops, as well as other sections around the shops, will be severely limited. Members of the public are requested to assist police by staying clear of the cordoned area around the Hughes shops.

Any witnesses who were in the area of the Hughes shops or Whittle Street around the time of the offence or who may have any information which could assist the investigation is urged to contact Crime Stoppers.
—
ACT Policing is seeking witnesses to an aggravated robbery at a store in Emu Bank, Belconnen around 8.45pm last night (Saturday, May 8).

The offender walked into the Subway store at Emu Bank, produced a large knife and demanded cash.

The offender is described as around 183cm (6') tall, of average to solid build, wearing blue tracksuit pants and a white hooded top and gloves. He put the stolen cash in a white plastic bag and was last seen walking in a northerly direction along Emu Bank.

There were three staff members in the store at the time of the offence but no-one was injured.

Police are appealing for anyone who may have been visiting Emu Bank last night around the time of the offence and may have noticed any suspicious persons, or may have seen the offender as described is urged to contact Crime Stoppers.
—
ACT Policing is seeking witnesses to an aggravated robbery at the Burns Club in Kambah early this morning (May 8).

Shortly after 1.30am today two male offenders, both with firearms, entered the Burns Club. There were five staff members in the club at the time of the offence, including a security guard. One of the offenders threatened the night duty manager with the gun and ordered him to fill a bag with cash. The second offender threatened the other staff members, telling them to lie on the floor.

Both offenders had their faces covered with balaclavas and bandanas. One of the offenders was described as around 186cm (6'1") tall, while the other was between 175cm and 178cm (5'9" – 5'10") tall.

The offenders escaped from the side door of the club with a large sum of cash concealed in a sports bag. No weapons were discharged, nor were any staff members injured.

Much of the cash stolen was in small denominations. Police are therefore urging any businesses in the Canberra or local area which may be paid for consumer goods in a transaction involving cash in small denominations to contact Crime Stoppers and to retain any CCTV footage of the buyer(s).

Anyone who may have information about the robbery or who were in or around the Burns Club in Kambah at the time of the incident and may have seen suspicious persons or vehicles are urged to contact Crime Stoppers.
—
4. Wheelie Bin BBQ:
ACT Policing is seeking witnesses to a number of wheelie bin fires in the Tuggeranong area last week and more recently in Phillip.

The first of the incidents occurred earlier this week between the hours of 1.30am and 3.30am, when more than 25 bins were deliberately set alight at random locations in the suburbs of Monash, Richardson, Gordon, Banks, and Wanniassa.

Arsonists struck again on Wednesday, May 5 at Strathgordon Court in Phillip, around 11.30pm when ACT Fire Brigade were called to extinguish a bin fire.

Police have not yet established a link between the incidents which occurred on separate nights but are keen to speak with any witnesses who may have seen any suspicious persons or behaviour which may have led to these arson incidents.

The public are reminded that if they have information which may prove useful to the investigation they can contact Crime Stoppers.
—
Members of ACT Policing's Traffic Operations RAPID team apprehended two more disqualified drivers early today (Friday, May 7).

The team has been actively targeting disqualified and suspended drivers due to the dangers they present to the ACT community.

A 39-year-old woman driver was apprehended on Antill Street in Dickson. She was found to be driving whilst disqualified, in an unregistered car, without Compulsory Third Party (CTP) insurance. She will be summonsed to appear in the ACT Magistrates Court at a later date.

Acting on information received, police also detected a 45-year-old male on Oaks Estate Road. The male was driving whilst disqualified, in an unregistered vehicle and without CTP insurance. As a result of the man's previous traffic convictions, he was placed under arrest by police.

Police were also concerned about the speeding and risk-taking behaviour of some motorists during fog early today. During the foggy conditions, one motorist was detected by police driving at 104km/h in a 70km/h zone.

Meanwhile, the capability of RAPID technology to enhance road safety for the Canberra community was acknowledged this week with the ACT Government Budget allocating four-year funding to a dedicated RAPID team within ACT Policing Traffic Operations.
—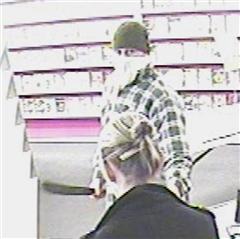 ACT Policing is seeking witnesses to an aggravated robbery at a Video Ezy store in Ngunnawal Friday, May 7.

At 8pm a male entered the store, threatened staff with a knife, and demanded money. He left with a sum of cash.

The male offender is described as Caucasian, 30 to 40 years of age, about 180cm (5'11") tall and with a solid build. He was wearing light blue denim jeans, a long sleeved green flannelette chequered shirt and a green bandana covering his nose and mouth. He was also wearing a beanie. He is described as having a very short "buzz cut" hair style, orange/red in colour.

Police are urging anyone who may have been in the Ngunnawal shops area at the time of the incident and may have seen the offender or can assist the investigation to contact Crime Stoppers.
—
If you can help police contact Crimestoppers on 1800 333 000 or via the website at www.act.crimestoppers.com.au