REVOLVER have released their debut album of 15 original tracks, In Absinthia. The album, self produced, showcases the song writing talents of vocalist and guitarist Mark Hunstone and vocalist and bassist James Montgomery and includes even a funked up reggae offering from founding drummer Joey Joe Pryor (Yep,he sings).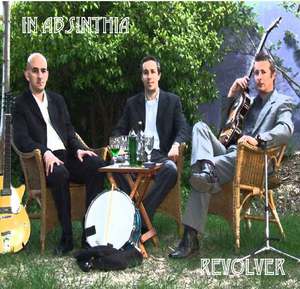 The collection is a dynamic mix of blues, funk, reggae, jazz and retro rock, intertwined with social commentary and just a smattering of the absurd.
Copies of this must-listen album are severely underpriced at AU$15 (postage included) to Australian addresses and can be paid for through money order, cheque (PO Box 5477 KINGSTON ACT 2604) or PayPal account pendragon@netspeed.com.au (quote REVOLVER).
Email management@revolver-act.com with your payment details and mailing address. Copies will be sent within 5 working days of receiving cleared payment.
Track listing
1 yesterday's faces (Montgomery) 3:15
2 want me back (Hunstone) 5:56
3 there's the door (Hunstone) 3:24
4 she (Montgomery) 4:16
5 free in august (Montgomery) 3:36
6 days go wandering by (Montgomery) 3:51
7 green devil (Hunstone) 5:04
8 silver spoon boy (Pryor) 3:36
9 dig a hole (Hunstone) 2:42
10 conservative bohemian (Montgomery) 3:34
11 i ain't paying (Hunstone) 4:02
12 dippers (Hunstone) 3:05
13 debbie (Montgomery) 4:26
14 she doesn't care (Montgomery) 3:40
15 cross in the sky/wastelands (Montgomery) 6:07