This is Penny Hyde and Troy Reddick from Elders Real Estate Belconnen.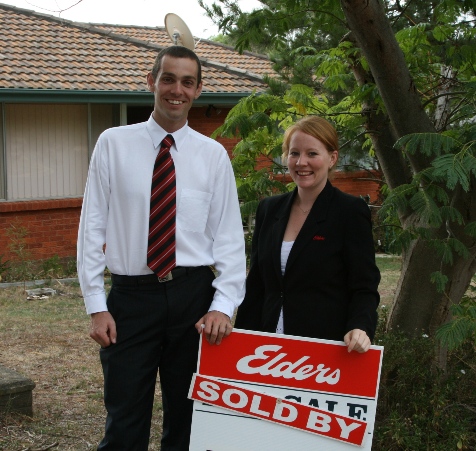 And this is the outside of their office in Jamison.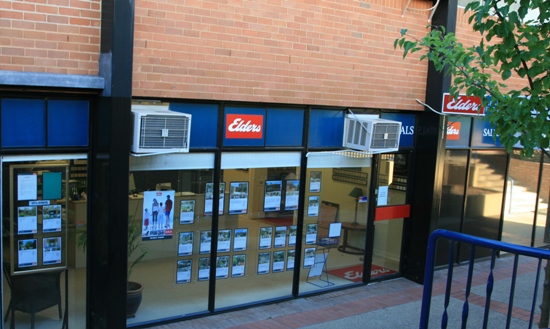 Last Sunday we had a chat about what's involved in running a real-estate business in the ACT. The audio of the interview is available for those of you who want the whole story (and the dulcet tones of a maltese terrier woofing).
We started with Troy making the point that real estate is an unusual business in that they start a business with nothing to sell. They don't really sell houses, they sell their services to people who want to sell or rent houses. Troy estimates that most people who form a low opinion of real estate agents are disgruntled buyers or renters who don't realise that the agent is working for the person who owns the property, not for them.
They were positively glowing about the industry reforms of 2004. Aside from driving shonks out of the industry it has also made life much more difficult/complicated for property owners trying to sell their own property, effectively bringing more business in for the agents still in the industry. However, while happy with the regulations they aren't keen on the idea of dobbing in other agents they suspect of being in breach of them, preferring to let matters take their course.
The flipside of the regulatory burden is that it costs them roughly $20,000 to train a new agent before they can be unleashed on the public, which when you consider very few new agents make it to a second year in the industry (just 15%), is a major cost for their employers. Fortunately in a commission only business there aren't any salaries to pay for new agents who aren't bringing in business. Elders Belconnen hope that with their training and selection regime they can get the attrition rate down to 50%.
Mystery visitors being tricky for the real estate market customer service quality is monitored through surveys which they get a 50% return rate on.
Amongst the current caterwauling over land tax and stamp duty there was an agreement that supply and demand is the ultimate arbiter of price, rather than the individual components. Removing taxes will be good for vendors and real estate agents, but not necessarily make a jot of difference to the price of a house.
Troy also stressed that in this era of low inflation it's a mistake to think that house prices must always rise and cannot go down. At the moment they find many older investors are getting out of property to take advantage of the new tax treatment of superannuation, not to mention to stellar returns on the red hot stock exchange.
The hours of a real estate agent are not the best part of the job. Saturday and Sunday are the busiest of the week and clients often like to get visited after hours. While the working hours will vary from 40-60 a week it takes an act of will to get a whole day off along the way. Meanwhile 10% of the agents in Canberra are raking in 90% of the money leaving the others to scrape by.
On the subject of allhomes they agreed that it is the undisputed king of ACT real estate websites, but because it is so local it misses out on the interstate buyers who make up a huge part of the market. They estimated marketing the average property would cost as much as $1,000 of the vendor's money.
Word of mouth and "Sold" stickers are considered to be the best possible marketing methods when trying to convince people to sell through Elders.
Troy loves having the office in Jamison for all that the expanding agency is facing some office space challenges at the current location.
We briefly discussed rental auctions. Troy and Penny expressed an understanding of why some lessors would want to maximise the return, but also noted the risks of getting in a tenant who might be able to pay the highest price (for a while) but not be the best tenant for the long term.
For those of us hoping the units going up all over town will drive prices down there's bad news, more people living alone are more than making up for that growth and with developers not starting to build until half the units are sold off the plan there's little chance of a glut to drive down housing costs.
* RiotACT receives no inducements or considerations to produce business profiles (Disclosure: Penny is the better half of RiotACT's Jazz). If there's a local business you'd like to know more about email business@the-riotact.com with their details and why you think they're interesting.
The feed for podcatching the audio of this and future Business Profiles (~30mins) is http://the-riotact.com/wp-rss2.php?cat=46