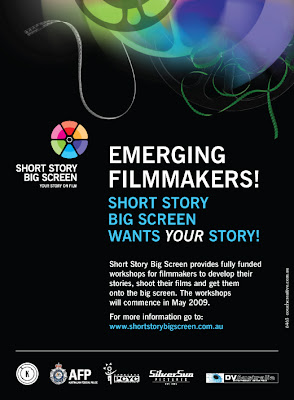 Here's something for aspiring film makers. This from their media release:
Short Story Big Screen is a multicultural filmmaking project, which brings people from different communities together to tell their stories and turn them into films.

Short Story Big Screen is searching for local aspiring filmmakers of all ages and cultural backgrounds to participate and create their own film projects in fully funded filmmaking workshops.

Short Story Big Screen is searching for 32 filmmakers to create films about their cultural heritage, their family history or experiences.

The aim of the Short Story Big Screen project is to explore our multicultural community and showcase the diversity of our community on the big screen and as an online cross-media platform.

Short Story Big Screen will be providing the filmmaking workshops free so that all aspiring filmmakers across our communities can participate, create and collaborate.

Short Story Big Screen is an initiative developed by the Australian Federal Police and supported by the Department of Immigration and Citizenship to provide opportunities for people in Australian community to share their stories.

Participants will learn essential skills such as writing the story with leading industry experts, preparing the production, location filming and film editing.

Filmmakers can participate by visiting the website: www.shortstorybigscreen.com.au and enter their details and tell us their stories online.
The films will be shown at the National Film and Sound Archive on 5 August.