It's a double bonus Simon day today!
The very first of the new signs renaming good old civic "City Centre" has been erected on Northbourne Avenue. Simon has announced it with some fanfare:
"The Canberra Central identification signs are part of an ongoing signage package to define the City and make it easier for people to find their way around… This package includes new street name signs, information pillars and other directional signage… Mr Corbell said a total of five internally lit and sculpted identification signs shaped to form an arrow would be installed in the Northbourne Avenue median strip, with each arrow directing visitors to the main commercial area of the City.
Sounds impressive eh? Well we've been down to take a look: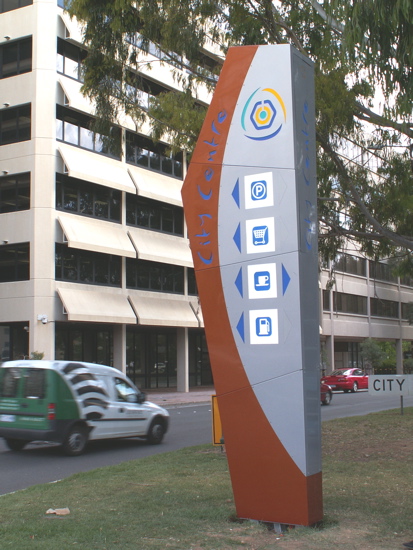 Hmmm…
Interesting that Simon's talking about "Canberra Central", the sign's talking about "City Centre", and most people who live here are hanging grimly on to dear old Civic (that mythical place where we could park to go shopping).
Meanwhile this is part of a broader plan:
"These City entry signs, the new street name signs and a range of paving treatments, fittings and furnishings will be given a consistent styling approach throughout the City centre through the proposed manual"
So who was the bright spark who decided our "consistent styling approach" would be chunky and poo brown?