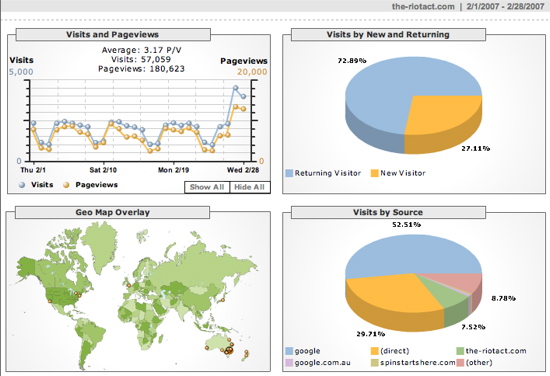 Even our biggest two days ever at the end of the month as Canberrans sought out coverage of the storm (and thereby overloaded our server at the peak of demand) wasn't enough to save us from a pretty ordinary month. Fortunately our advertisers only pay for the eyeballs we reach. It is worth noting that February is 10% shorter than January which explains some (but not all) of the drop:
So here's the comparison:
Absolute unique visitors: 18,710 down from 20,221
Visits: 57,059 down from 60,680
Pageviews: 180,623 down from 214,863
Very loyal visitors: 11,058 down from 11,155
And now for the fun stuff.
The 25 most popular pages (excluding the eternally triumphant front page):
1. Storm cell zeros in on Canberra
2. 2007 Multicultural Food and Dance Spectacular, impressions and pictures.
3. Raiderettes trials
4. Macing of smackhead at Erindale
5. One way around the water restictions
6. Crash at Griffith Shops
7. Best gym in Canberra?
8. Siege in Duffy
9. Search page
10. Hindmarsh Drive closed to Queanbeyan
11. State of the Riot – January 2007
12. Images of Canberra
13. Storm's a-comin'
14. Open air shopping centre and cinema?
15. Storm wash up — Canberra Centre
16. Why do we allow the police to go digital without any debate ?
17. Loadedog versus the Canberra Times
18. Amber Jane Westin pleas guilty – MAXIMUM SENTENCE OF TWO YEARS
19. Burnout resistant bitumen?
20. Graffiti watch – All the arms we need
21. What's your favourite.. Garage?
22. Rape crisis?
23. Where should Maelinar go if he's a winner?
24. TransACT wireless hotspots?
25. Another look at the Dendy cinema
And finally the top 500 search terms which brought visitors to the site:
1. riotact
2. riot act
3. the riot act
4. the riotact
5. riot act canberra
6. amber jane westin
7. "gareth higgins"
8. the riot-act
9. summernats
10. aldi gungahlin
11. dendy
12. rao and cube
13. riot-act
14. zierholz
15. mawson club
16. regatta point canberra
17. big al
18. cougar computers
19. "front bottom"
20. griffin centre canberra
21. backyard
22. yowie
23. central cafe queanbeyan
24. mutley
25. steffi
26. "2003 bushfires"
27. "riotact"
28. canberra hail
29. site://the-riotact.com cleo dickson
30. "george wason" investment
31. snahon chain
32. s4anta – 10 january, 2007
33. al grassby mafia
34. krispy kreme
35. the riot act canberra
36. tropfest
37. elite cabs canberra
38. ghosts
39. 2602 restaurant ainslie
40. site://the-riotact.com christmas tree
41. hasdrubahl
42. bruford
43. the riot act johnboy
44. annex
45. big w gungahlin
46. guitar
47. advertising on riotact
48. the-riotact
49. canberra sheep art
50. john hargreaves
51. statue stanhope
52. grasby
53. canberra computer fair
54. email interview andrew barr
55. cost of private education
56. poptop riotact
57. hail
58. paintball canberra
59. fires
60. glenloch interchange canberra
61. cyclist
62. foskey
63. computer
64. civic buskers 2006
65. bonfire jew
66. action
67. site:the-riotact.com bus art
68. anu singh
69. narrabundah long stay
70. act riot
71. rao
72. raven
73. guy jones is a dumb fuck
74. angela shanahan
75. helicopter
76. sage restaurant canberra
77. wireless
78. people against non eventful
79. mulcahy city news
80. southern cross ten weather
81. secret underground
82. amber westin
83. cranky
84. dijon canberra
85. canberra cabs
86. theriotact
87. just bands
88. cave clan
89. brand depot canberra
90. riotact canberra
91. tattoos + canberra
92. bodyworks
93. jigsaw creamery
94. glen porritt
95. act water truck hire
96. neil savery contract actpla
97. the-riotact.com
98. b-bar canberra
99. kambah pool
100. publius
101. pacman
102. monkey bike
103. schmick as
104. electoral funding
105. johnboy is gay
106. scouts
107. chris shelling garran
108. bikes
109. hairdresser canberra
110. vicki dunne + nyssa76
111. limestone lizzie
112. canberra raiders discussion
113. s4anta
114. landspeed
115. australia day parliament house whitlams
116. "mawson club"
117. rhodium
118. andrew barr teachers eba
119. bushfire
120. canberra australia day concert
121. teppanyaki
122. canberra paintball
123. "canberra philharmonic", 2007
124. canberra connect
125. stabbings civic canberra
126. cityboy
127. gold creek blog
128. googong
129. llama
130. phillip pool
131. rate my driving
132. canberra dam tax
133. comet
134. new years' 2005
135. taxi canberra
136. johnboy, the homosexual riot-act horseman
137. chisholm tavern
138. troy williams
139. seears gregory
140. stage 3 restrictions
141. ben drysdale
142. tattoo north lyneham
143. 2xx fm
144. cfu canberra
145. act parliament video streaming
146. adam45
147. hairdresser tuggeranong homeworld
148. dj mclaughlin
149. ikea
150. canberra taxi
151. chris shelling
152. crazychester
153. con's seafood restaurant
154. porritt
155. myspace
156. remedial massage canberra
157. dunne
158. comment by publius
159. the front lyneham
160. suicide
161. tent embassy 26 january 2007
162. independent property group
163. ad nauseum
164. steph brewster site:the-riotact.com
165. griffin centre
166. guy jones
167. flowering trees in canberra
168. "the riot act"
169. "alys graham"
170. adventure paintball canberra
171. hairdressers
172. guy jones band
173. casual jobs in canberra
174. stanhope carnell westminster
175. canberra raiders
176. crazy chester
177. "matty ellis"
178. stateline
179. baby names
180. hospital
181. defence deano
182. loaded dog
183. react roofing
184. ari water
185. raiders clubs
186. pasquale barbaro
187. needs to be glassed
188. kerces birth
189. rugby podcast
190. "circulation figures" "canberra times"
191. rioact
192. inconvenient truth
193. barking toad
194. wordpress
195. "win news" canberra
196. riot act act
197. westfield, woden, "floor space", retail
198. maurizio rao
199. "two of clubs "
200. riot-act canberra
201. richard mulchay
202. richard and mulcahy and hotels
203. santa claus pub crawl
204. raves
205. sheep civic
206. queanbeyan cabs
207. gym
208. wotz christmas
209. irfan yusuf
210. australia day live
211. gorman house sage
212. cougar computer
213. "all bar nun" complaints
214. mcnaught comet canberra
215. stencil+danman
216. minikeg
217. morris rao
218. hepatitis
219. spanish
220. act lightning tracker
221. canberra gay swimming
222. act liberal party
223. jorian gardner
224. "caitlin bessell"
225. wireless broadband canberra
226. fiona bolton
227. summernats 2007 photos
228. john griffiths rioact
229. "self masturbation "
230. restaurant review
231. meatbee naming rights
232. cafe essen
233. canberra act smoking laws in outside eating areas
234. brewery
235. richard mulcahy aha
236. "chris french" canberra
237. gay beats
238. tattoo canberra
239. craig maroney
240. ikea canberra
241. "anti-liberal website" – abc news
242. "riot act"
243. live in canberra
244. canberra bikie
245. troy takiari
246. rubees canberra
247. bogans
248. hail canberra
249. canberra raiders forum
250. centrelink fraud
251. riotact schmerica
252. david madew
253. amber petty
254. wireless hotspots canberra
255. raiderettes
256. kerces
257. summernats sluts
258. where is front cafe and gallery, canberra
259. black mountain tower restaurant
260. renee cutrupi
261. jigsaw frozen custard
262. the ridge farrer shops
263. monkey bike mayhem
264. havelock
265. chris cashmore tattoos
266. posted by ha
267. super 14 draw 2007
268. goodberrys
269. justbands
270. belconnen soccer club
271. www.the-riotact.com
272. canberra storms
273. "briony young"
274. los capitanos
275. jigsaw custard
276. beautiful maladies
277. bus lane to city
278. poachers pantry
279. onewayfare canberra
280. school closures
281. ha
282. canberra images
283. state focus
284. amber weston
285. latest+summernats+pics+images
286. queanbeyan leagues club general manager
287. rate plate
288. canberra storms lightning
289. editor canberra times
290. tharwa bridge
291. pot belly battle of the bands 2006
292. canberra storm
293. tent embassy protests
294. gunghalin marketplace asian grocery
295. melbourne brumbies
296. youth issues
297. hyatt
298. dendy cinema
299. the riot ac t
300. alpaca
301. absinthe
302. tortilla press
303. santa pub crawl
304. canberra brothels
305. glebe park amalgamated
306. harrison
307. riotact.com
308. mugga lane dump
309. b bar kingston
310. melba
311. "canberra centre" november
312. court proceedings
313. bogan names
314. computer fair canberra
315. mecca bah canberra reviews
316. best beer
317. matt henjak
318. los capitanes
319. summernats 2007
320. barbaro
321. mclaughlin
322. keiran
323. belconnen busway cost benefit analysis
324. crazy chester the-riotact.com
325. richard mulcahy
326. rat patrol
327. transact
328. dendy premium
329. "jim murphy" "brendan smyth"
330. "aaron peacey"
331. canberra brothel
332. australia day concert
333. costabile
334. lucy
335. sky plaza
336. threadless
337. canberra hospital
338. zwish
339. beer
340. jorian
341. comment+by+gurunik
342. piss off to america
343. discrimination
344. city boy
345. ginseng canberra
346. greg seears
347. the griffin centre canberra
348. the potbelly canberra
349. cafe pronto canberra
350. molonglo valley
351. watch this roof
352. woden plaza evacuation abc
353. canberra massage parlour
354. gungahlin g spot
355. teddy
356. brumbies game
357. "perpetual water"
358. adeptacheese -killboard
359. regatta point
360. canberra weather
361. jobs for ex-teachers
362. reface ya brakes
363. raymond j bartholomew
364. "mattyellis"
365. anise canberra
366. stabbing
367. tattoos in canberra
368. civic to belco busway
369. seears
370. swaiti
371. taxi
372. dfo canberra
373. belconnen busway
374. dimitri eliopoulos
375. uni pub canberra
376. queanbeyan taxi
377. les wassell
378. b is for
379. teachers
380. gravel rash
381. www.the-riotact.com'
382. p platers
383. kambah rainfall
384. canberra weather radar
385. darren cutrupi
386. toast nightclub canberra
387. canberra vikings
388. stanhope bushfire
389. "michael cooney" canberra
390. menu food
391. canberra lightning
392. rental auctions
393. canberra goth
394. atheist homeless shelters
395. squirt
396. cabs
397. paintball in canberra
398. "john laws" "actewagl"
399. canberra storm pictures
400. kambah high
401. jobs for ex teachers
402. lyneham
403. cougar canberra
404. canberra gay
405. van veen
406. rocksalt hawker
407. mountain bike tracks in act australia
408. west_kambah_4eva
409. serco sodexho
410. schmerica!
411. porritt canberra
412. "brendan smyth" lennane
413. cabxpress
414. chris21
415. brisvegas
416. spence
417. "john griffiths" johnboy
418. ses number
419. canberra band explosion
420. storm colour code ses
421. cons seafood restaurant
422. "maurizio gianpier rao"
423. canberra liberals
424. "cell block 69"
425. wok it up
426. teejmahal.com blog
427. insatiable samuel 45
428. "australia day concert" canberra
429. clea rose
430. samuel gordon-stewart
431. glassed
432. lake george australia
433. "canberra day" + "rogue traders"
434. "wok it up"
435. canberra riot act
436. richard mulcahy scum
437. stab
438. canberra day rogue traders
439. canberra times
440. kambah
441. koomari
442. sage canberra
443. absinthe australia
444. fyshwick markets
445. kel watt
446. "cube nightclub" murder canberra
447. civic buskers 2006
448. canberra injoy review
449. jujitsu
450. charcoal restaurant canberra
451. queanbeyan chronicle
452. jigsaw erindale custard
453. aliens exist
454. "talkback callers"
455. "andy mccray"
456. west's turner club
457. australia day fireworks
458. riot act news
459. canberra raiders forums
460. corrie lee
461. peter brock
462. "privileges card" update
463. netball
464. towards 2020
465. canberra local news
466. gay canberra
467. palavi
468. bushfire coronial shutdown
469. dendy civic
470. burgman anglican school
471. "executive level 1"
472. cameron offices
473. lake george
474. st vincent de paul ball 9 september
475. jindalee
476. anu lowers entrance score
477. predator
478. deli
479. loadeddog
480. the greenhouse raiders
481. canberra centre parking
482. deb foskey public housing
483. hayley jensen
484. rubees
485. tim blair
486. futures festival
487. rock salt hawker
488. computer shops canberra
489. riot act canberra cycle map
490. computer places in fyshwick
491. storm canberra
492. canberra paintball adventure
493. rubees frozen custard
494. roadside drug testing in canberra
495. byron "canberra airport" email
496. buy absinthe
497. canberra massage
498. canberra hairdressers
499. skate park
500. rocksalt canberra