Another month has gone by and the readership continues to climb ever upwards here's the executive overview of the last month's statistics courtesy of Google Analytics: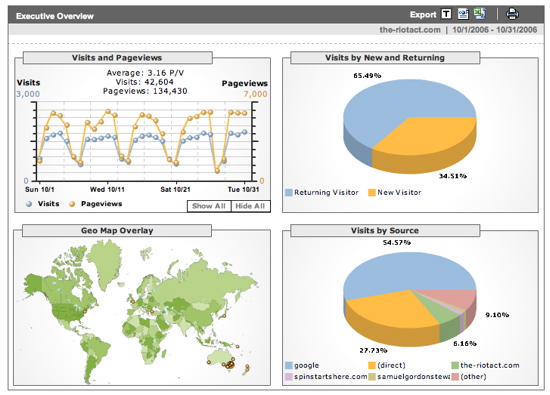 The all important absolute unique visitors number was 17,119 up from 15,213 in September. A staggering 7,486 of you are considered very loyal by Google, returning to the site more than 200 times. If we could all agree on a candidate that's a seat in the Assembly. (potential advertisers should drop a line to johnboy@the-riotact.com)
Now, moving onto your favourite bit, top content and referrers.
The 25 most visited pages in the site were:
1. The RiotACT
2. Births and names 30-SEPT-06
3. Poor hygiene at Dickson Noodle House? Say it ain't so!
4. The return of CrazyChester
5. Letters to the Editor – on David John Mclaughlin
6. Bogans with cars
7. Possible Scam: call about home owners that work
8. Canberra's gay beats
9. Births and names 14-OCT-06
10. Gareth Higgins is OK you f*cking faggs
11. Are you with stupid?
12. If John B1_B5 gives up the internet will he give up talk back radio too?
13. Why does Canberra pump all the weird into the blogosphere?
14. Arboretum is go
15. Arrest made in relation to the murder of Nannette Porritt
16. Goodbye to lunchtimes – City Shopfront to close
17. New bus timetables
18. Action's Quality Service Strikes Again!
19. God squad hot and bothered
20. Lake Dickson!
21. Atheists only in Santa's grotto?
22. Victory! Lake Dickson is no more! Bow before my might you peasants!
23. Soft Judiciary??
24. Births and names 7-OCT-06
25. Jail size reduction due to high building costs.
And finally the 500 most used search terms were:
1. riot act
2. riotact
3. "gareth higgins"
4. the riot act
5. the riotact
6. zierholz
7. crazychester
8. temora
9. screen act
10. thumper ses
11. tom woodward
12. "benno1"
13. crazy chester
14. barking toad
15. brand depot canberra
16. absinthe
17. tharwa
18. patrick carr canberra
19. citynews
20. site:// the-riotact.com aiden bruford
21. "southern cross club" +"right to life" +donations
22. defence headquarters
23. sage gorman canberra
24. charcoal restaurant canberra
25. email interview andrew barr
26. anu singh
27. melba
28. "riotact"
29. monster truck
30. swantonjohn
31. david mclaughlin
32. canberra cabs
33. amanda vanstone quote women big funny
34. canberra raiders forum
35. john james hospital
36. siev x memorial
37. glen porritt
38. action
39. banson
40. limestone lizzie
41. brendan smyth
42. the way hip antelopes
43. missing civic sheep update
44. bogan names
45. crazy chester the-riotact.com
46. "alexander downer" site:http://the-riotact.com/
47. taxi canberra
48. kimba
49. cougar computers
50. david john mclaughlin canberra
51. google
52. puff piece
53. canberra raiders discussion
54. mr_shab
55. charcoal restaurant
56. react carl watch this roof
57. casual work in canberra
58. atheist elves
59. site:the-riotact.com magpie swooping canberra
60. tower
61. philip williams abc
62. paintball canberra
63. "kate carnell" "jim murphy"
64. john b1_b5
65. cougar computers canberra
66. wireless broadband canberra
67. malcolm farr
68. c88 canberra
69. manuka oval seating
70. the riot-act
71. canberra raiders
72. "magna carta place"
73. just bands
74. nerdvana
75. "jim jones" alp
76. oktoberfest canberra
77. lake george
78. battlekath
79. fireweed canberra
80. asio
81. ardeche
82. blamemonkey
83. zierholz brewery
84. the italian kitchen, kaleen
85. uriarra crossing
86. akido canberra
87. loadeddog
88. brand depot
89. webster
90. black pepper belconnen
91. daylight savings, canberra, 2006
92. mawson club
93. perpetual water
94. cook school closure abs
95. riotact canberra
96. andrew barr city news
97. canberra liberals
98. physical activity
99. talking boonie
100. walk up mt ainslie
101. p plater speeding fine nsw
102. richard mulcahy
103. canberra computer fair
104. the riot act canberra
105. flexibus
106. john hargreaves
107. siev
108. absent diane
109. house of representatives hansard emerson "canberra cabs"
110. phnom penh restaurant belconnen
111. rubees canberra
112. roland manderson
113. riot act canberra
114. poachers pantry
115. pot belly battle of the bands 06
116. kambah
117. c88 fm
118. loaded dog
119. radio ratings canberra june 2006
120. hayley jensen
121. shane webke
122. david mclaughlin
123. dfo canberra
124. markus mannheim
125. andrew barr education
126. wasabi dickson
127. ibn news
128. stage 3 water restrictions actewagl
129. gorman house markets
130. department of education
131. rugby podcast
132. lyneham
133. tattoo canberra
134. wasabi dickson teppanyaki
135. "john bundock"+australia
136. canberra labor club
137. centrelink fraud
138. hackett preschool
139. future development
140. benno
141. computer fair
142. dragway
143. griffin centre canberra
144. schmerica canberra
145. porritt
146. rhodium
147. stateline act
148. tharwa bridge
149. raves
150. "capt_benno"
151. andrew barr homosexual mla
152. computer fair woden
153. the terrace manuka
154. cocktober fest
155. save our schools, act
156. mulcahy
157. belconnen busway
158. cabs
159. "old res" uc'
160. keep cook open
161. stabbing canberra
162. adventure paintball
163. bogans
164. cat award
165. needs to be glassed
166. "state focus"
167. a.g. flor
168. canberra vikings
169. patrick carr
170. gareth higgins
171. action bus strikes canberra september
172. canberra connect
173. sage restaurant canberra
174. spirits of the dead canberra
175. locata
176. kambah pride
177. el
178. natalie colbert
179. canberra brothels
180. andrew barr
181. "fiona patten" eros
182. corrie lee
183. fireworks
184. win news canberra
185. the-riot act
186. canberra taxi
187. cameron offices demolition
188. computer
189. troy takiari
190. dj mclaughlin
191. computer fair canberra
192. black mountain tower restaurant
193. canberra brewery
194. longstay caravan park narrabundah
195. riot-act
196. evacuation
197. toast nightclub
198. canberra raiders fan forum
199. jelly wrestling
200. section 84
201. canberra computer
202. barr interview
203. ghosts
204. lake george ghost
205. dickson asian noodle house
206. bus lane to city
207. mark higgs
208. regatta point
209. matt henjak
210. giralang
211. "labor club" civic
212. when did rural press buy the canberra times
213. crikey
214. los capitanes
215. virginia hausegger
216. the riot act site".au
217. nastykindagal
218. alexander
219. save the ridge
220. morris rao
221. tssh
222. canberra liberals ethanol
223. canberra paintball
224. canberra brand depot opening date
225. southside farmers market
226. jone tawake
227. haley jensen
228. richard mulcahy
229. pd rs-ra
230. dj
231. stanhope leak ct law
232. absinthe
233. "immigration bridge"
234. tower restaurant canberra
235. beat retreat
236. there is no plan to sell school sites
237. carillion canberra
238. fyshwick markets
239. lake george australia
240. "katy gallagher"
241. cameron offices
242. nsw p plater restrictions
243. metal for the brain
244. crikey dr mal washer
245. regatta point canberra
246. can tho vietnamese and chinese restaurant
247. krispy kreme canberra
248. canberra road works
249. musica e
250. denman
251. canberra hospital
252. canberra public housing wasted money ainslie
253. "wonsworld"
254. robert fisk anu podcast
255. canberra carillion
256. join labor faction
257. statue and "al grassby"
258. kiddy porn
259. "john james hospital"
260. deborah clark rhodium
261. central cafe queanbeyan
262. wasabi teppanyaki
263. 2cc newsroom
264. kamberra
265. canberra centre expansion
266. channel 7 podcast
267. defence hq bungendore new
268. riot act
269. "riot act"
270. bit reactor.to
271. good guys tuggeranong
272. dpp murder caravan park canberra
273. canberra weekly births
274. tattoo north lyneham
275. konrad lenz
276. bronze solarium
277. serco sodexho
278. "richard mulcahy"
279. night train
280. vb boonie doll
281. redletter your planes fill the sky review
282. canberra models
283. suspicious package woden plaza
284. fiona patten
285. westfield woden
286. superb parrot
287. "ibn news"
288. canberra, bus, patronage, action
289. watch this roof
290. save our schools
291. "best price computers" canberra
292. royals
293. fiona bolton
294. raymond j bartholomew
295. 2cc
296. canberra brand depot
297. santa pub crawl
298. beer
299. barrel of monkeys + cocktober fest
300. rocksalt canberra
301. deb foskey
302. toast + canberra
303. world university rankings
304. artistic nude
305. neighbourhood watch
306. "crazy chester"
307. cricket
308. chris21
309. cit
310. tortilla press
311. cube nightclub
312. react roofing
313. john riotact
314. site://the-riotact.com 'troy takiari'
315. tad dufelmeier
316. peter dunn resignation canberra
317. wendy rule
318. vb boonie
319. riotact.com
320. canberra brothel
321. krispy kreme woden
322. auditions, cats, canberra philharmonic
323. stabbing
324. foskey public housing
325. karin macdonald
326. amber petty
327. krispy kremes
328. shaun michael burke rapes canberra details
329. jigsaw clothing
330. beer for comment
331. mt coree
332. water restrictions
333. can tho
334. nyssa76
335. neighbourhood watch canberra
336. griffin centre
337. landspeed
338. canberra floriade
339. jim boots
340. cafe pronto canberra
341. barton restaurant
342. youth issues
343. westbourne woods ghost
344. cube stabbing
345. jessica french
346. p platers
347. hmas canberra
348. act pocket bike club
349. meche nightclub
350. cube
351. lizzie wagner
352. batemans marine park
353. narrabundah long stay caravan park
354. farmers union iced coffee strong
355. armygeddon
356. ted quinlan
357. b bar kingston
358. kambah high history
359. yarralumla brickworks
360. farmers market canberra
361. channel vision
362. "the riot act"+canberra
363. "old canberra house" bar
364. simon corbell and anu medical school canberra hospital
365. rental vacancy rate in act
366. stateline
367. honiara scouts act
368. bardelis cafe
369. canberra raiders forums
370. bungendore defence hq
371. abo
372. drink spiking canberra toast
373. the-riotact
374. sheep
375. bogan baby names
376. canberra "internet cafe"
377. windows on the park
378. project greenlight
379. infidel studios queanbeyan
380. "civic square" canberra
381. steven hillier
382. westfield canberra
383. cocktoberfest
384. berlina
385. the cashews
386. dj typhonic
387. pro hart
388. rental auctions
389. tower restaurant black mountain
390. state focus
391. night train canberra
392. crazy monkey
393. krispy kreme
394. belconnen mall
395. kerces
396. shari-lea hitchcock
397. ben doherty
398. ghost
399. electric shadows
400. lady fuzzington
401. mark parton
402. siev memorial canberra
403. superfight
404. mick rice
405. national folk festival
406. tom woodward – 32-20 blues
407. pigdog
408. sound underground
409. nanette porritt
410. schmick as
411. nude cyclist
412. zefferellis
413. site:the-riotact.com "gareth higgins"
414. i hate calwell high
415. "are the brave all dead"
416. absinthe buy
417. "john griffiths" johnboy
418. www.the-riotact.com
419. blades menswear
420. images of canberra
421. jamison markets
422. paint ball canberra
423. canberra tattoo
424. mooseheads
425. calvary john james
426. southside farmers market canberra
427. onewayfare canberra
428. talking boony
429. siev x
430. act school closures
431. canberra bus strike
432. superb parrots
433. "anu singh"
434. stonefest history canberra
435. "mullins" "stanhope" pool
436. scott murden
437. super 14 draw 2007
438. canberra book club
439. interpretative dance
440. canberra images
441. rocksalt hawker
442. cit fashion
443. porritt murder
444. dance parties
445. zwish
446. barrel of monkeys site:the-riotact.com
447. anu film group rss
448. al grassby statue
449. brothel canberra
450. ikea canberra
451. riot act canberra
452. ginninderra gardens
453. pocket bikes canberra
454. toast canberra
455. b bar canberra
456. canberra dfo
457. the canberra hospital
458. canberra pocket bike
459. pasquale barbaro
460. christoph zierholz
461. stonefest 2006
462. magpie swooping canberra
463. canberra club
464. telstra g3
465. book club canberra
466. goop troop
467. bigotbri
468. brothels in canberra
469. deborah clarke rhodium
470. buy absinthe
471. simon woolford
472. cost benefit analysis belconnen to city busway contract
473. gravel rash
474. "absent diane of the imminent present"
475. riot + act
476. parkes
477. "project greenlight" "top 8" "vote"
478. can tho restaurant
479. ying tong canberra review
480. neal richard winter
481. act factory outlet airport
482. cock gaggers
483. "seasoned slow sunday"
484. benjamin offices
485. griffith vietnamese
486. dfat child
487. wireless hotspot canberra
488. francis fainifo
489. mont 24 hour
490. jack waterford
491. farmers union strong iced coffee
492. paintball
493. channelvision
494. canberra pictures
495. angela menz
496. canberra bands
497. eboni stocks
498. mexican groceries
499. big brand depot
500. staffer