Over the weekend I was lucky enough to be able to roadtest (for review purposes) a mini-keg of Zierholz fresh beer and was thoroughly impressed. (If you missed it the RiotACT team inspected the Zierholz Premium Brewery in Fyshwick back at the end of July)
The 10.3 litre keg comes with internal gas pressure so it stays fresh (I'm told) for up to three weeks after you first tap it. It also comes with a removable dispense head which also acts as gas regulator.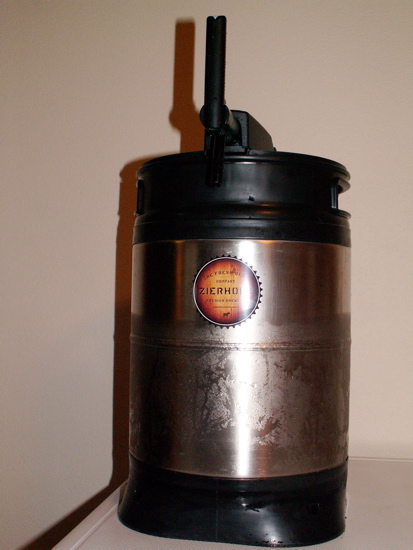 So how does it work?
OK, first you need to get the keg out of the fridge, assuming you have a reasonably sized fridge. Or if you have a rather large fridge you can operate the keg from in there.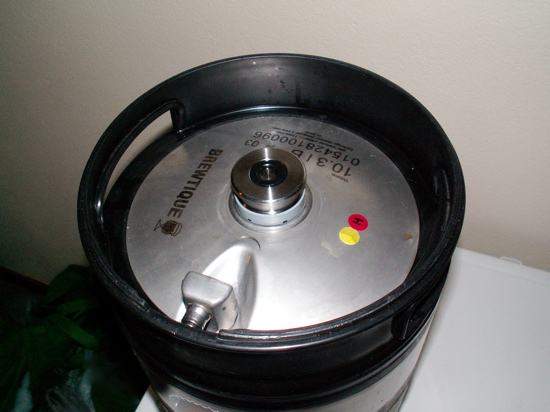 Then get hold of the dispense head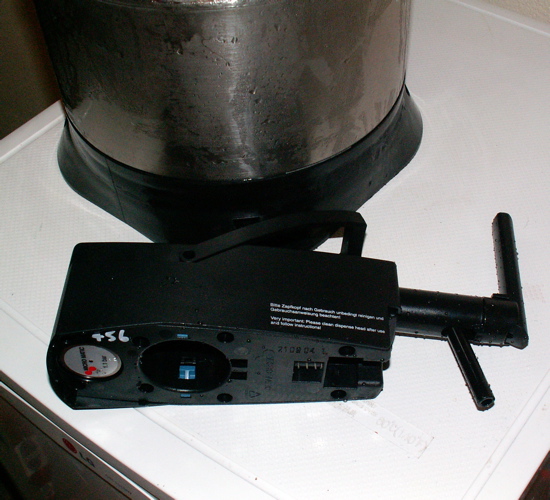 Place the head into the clearly marked spot on the keg, pull the handle over and down, wait a second while the pressure builds up in the dispense head (making a slightly disturbing noise) and you're ready to go.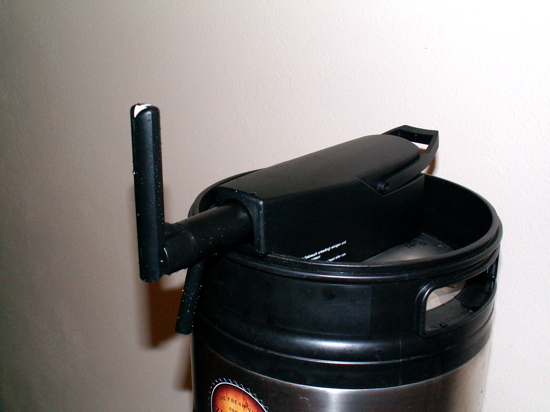 The tap's direction of operation is clearly marked and the pour is brisk but not aggressive.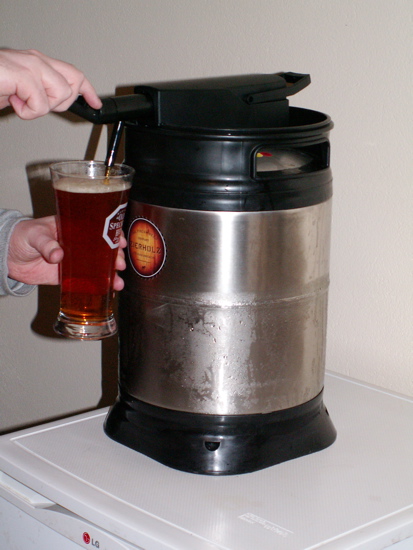 So, having had it over a weekend, helped myself to it, taken it around for my father to have a try, and taken it to a party where it was very well received I can vouch that the system works smoothly and flawlessly to deliver on-tap beer into the home.
The beer the keg was filled with was a new recipe currently under the working title of Hopmeister. It's a delicious light-ale (but not at all light in alcohol content) with a fruity hops flavour that can only be found in beer that hasn't travelled hundreds of kilometers on the back of an unrefrigerated truck. The Zierholz Pale Ale and Amber Ale is also available.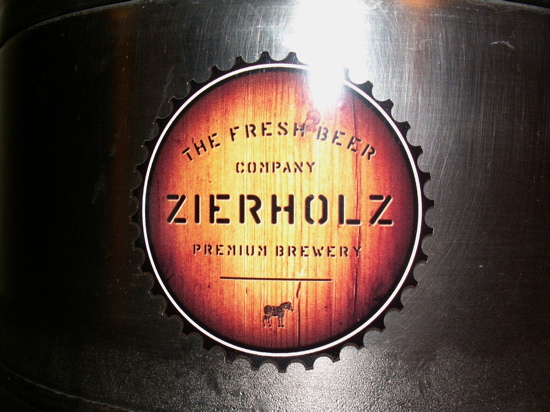 And now we get to brass tacks, what does it cost?
Well the first keg is a doozy. A filled keg with dispense system will set you back $400, holding 10.3 litres that's a steep $14 a schooner (still less than what you'll pay for similar quality belgian beers in some pubs).
It's going to be OK. Sit down, take a deep breathe, count to ten.
Once you're set up each refill (on a swap and go basis) is a more reasonable $71.50 ($65 pre-GST) or $2.60 a schooner. Premium beers often sell in that range at case price, and let's remember that a case of 330ml premium bottles will only give you a bit under 8 litres of beer.
So, if you think that VB or Carlton Draught is as good as beer gets than this is probably not for you. If you're a home brewer with your own keg system this is not for you.
On the other hand I suspect there are many people out there who would appreciate a fresh beer to enjoy at home in a well appointed pool room or shed. This is for them (or you).
If you want to try before you buy I can vouch that the Zierholz on tap at Debacle in Braddon is tasting pretty good right now (particularly with the tapas).
Those who are interested should call Christoph Zierholz on 02 6162 0523 or email info@zierholz.com.au
One off keg hires are negotiable, but you'll need to speak to the man.