On Saturday 08-APR-06 we did the Civic Public Art Walking Tour and lived to tell the tale.
And so, I present to you item # 34, Woman In Thought, by Milan Vojsk. Its next to the Reserve Bank building on London Circuit.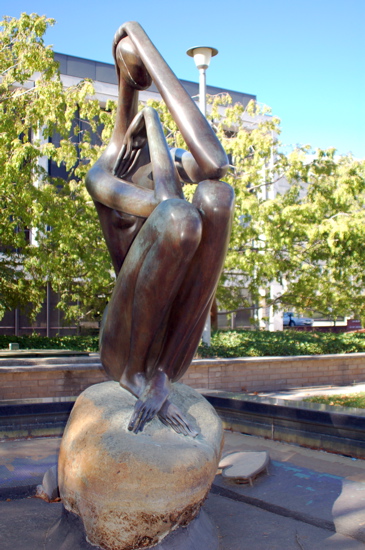 The guide says:
The Reserve Bank approached Milan Vojsk
in 1963 requesting sketches for a sculpture
to enrich the area adjacent to their new
branch. Vojsk visited the site to get a fi rst
hand impression of the architectural style
and surroundings of the city and produced
a number of drawings and studies.
The 2.9 metre bronze casting of Woman
in Thought was executed in Milan and
installed in 1973 as a gift to the people
of Canberra.
This was one of the highlights of the tour for me.
Got an image in, or of Canberra you want to share with the world? Email it to johnboy@the-riotact.com