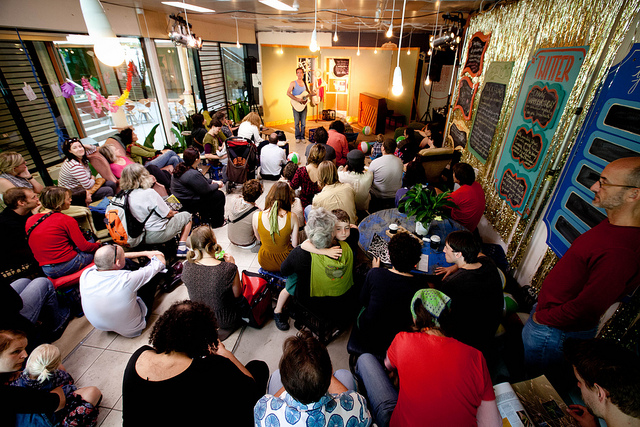 After two years, the You Are Here festival has been through a few vacant shopfronts. In 2011 our hub was SmithDick in the Civic Interchange (which turned into a McDonalds as soon as we vacated it: festivals are a force for urban renewal) and we placed a series of gallery installations in the Canberra Centre along City Walk. In 2012 we lived in the Newsroom, a former Newsagents in Centrepoint Plaza. Now in 2013, we're taking up residence in two spaces, as well as our usual barrage of events in shops, carparks, galleries and other found venues throughout the CBD:
The Watch House
The former police shopfront in Garema Place, kindly donated by Mr Jim Notaras. They've taken out the two-way mirror and it's a charming space, although the door to the back office is labelled ELECTRONIC QUESTIONING ROOM. (If anyone was ever taken in there back when it was a functioning police house, we want to know what electronic questioning is like.) The Watch House will be home to a series of visual art installations and small performance works.

Fletcher Jones
Most exciting of all, our festival hub this year is going to be in the former Fletcher Jones menswear store on the corner of Northbourne and London Circuit, courtesy of CBRE and the charming Patrick Sammon. It's a gorgeous elegant old-style carpeted space with lovely wood furnishing, great acoustics and all the mannequins you could possibly need.

Controversially, the ladies of the You Are Here producing team have dismissed the male mannequins for having unshapely asses. This fine specimen has been uncharitably christened 'Flatbutt'. Which raises the question: how much heft do a man's buttocks need?
Fletcher Jones will be home to You Are Here's lunchtime gigs, film screenings (including Conan The Barbarian, Con Air and Die Hard 2) and our Ice Age theatre festival.
Conveniently, Fletcher Jones is only 20 metres away from Canberra's key experimental arts venue, Mooseheads. What will happen when Mooseheads' clientele encounters You Are Here's mix of theatre, visual art, music and dancing? Betting opens now.