The Flathead Cafe in O'Connor has rapidly become an Inner North institution for fish and chips. Fortunately Nick The Pig had crashed on my couch the other night and with the morning he was bellyaching about how, without food, he would immediately expire. So we went looking for breakfast with some hope that All Bar Nun might be open.
In that we were disappointed, but I noticed that Flathead's was doing business and figured they couldn't just be doing fish and chips for breakfast. Instead we got this magnificent bastard for a mere $10: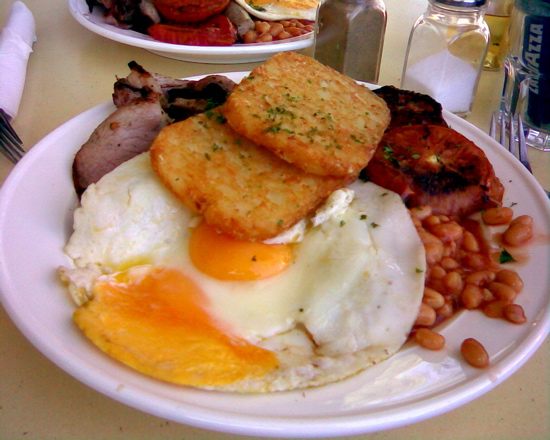 The tomato was actually cooked! And the eggs were right (aside from a broken one which happens to the best of us. It had decent bacon, and a sausage lurked in there to surprise the unwary. The hash browns were both enourmous and delicious and it came with a plate of toast with which to conduct mopping up operations. Best of all it had plain old baked beans rounding it out.
If you're after lightly grilled marinated mushrooms with your big breakfast then this isn't for you. But if you want a real fry up breakfast for a very reasonable $10 then it's highly recommended.