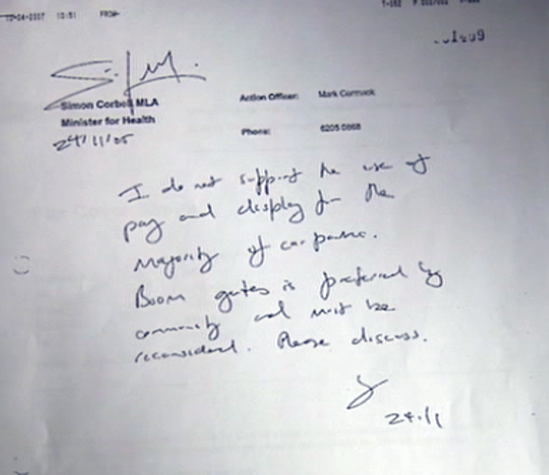 This morning Katy Gallagher was talking to the ABC and admitted that if you are going to have pay parking at a hospital then maybe it isn't the brightest idea ever to expect people in need of the hospital to guess when they arrive how much money to load into a pre-paid voucher. At some point in the future she'd like to fix it but hey, it's not like she's ever responsible for anything so why start now?
Later today Brendan Smyth dropped the bombshell out of his FOI gleanings that Simon Corbell also thought pay and display was a piss poor idea for a hospital (see the note above).
It appears that the only reason they pushed on with pay and display was because it would make them more money, to some considerable degree from suffering people who wouldn't know how long they'd need to budget for.
Well done Simon for having the decency to put your opposition in writing. It's just a shame about the "no fuss" super-mum minister raking in the cash from the sick and suffering.
UPDATED: The ABC reports that Simon has been sent out to explain to the media that he really did support Pay and Display by the end of the process.