Now we all know that the death penalty is a pretty extreme form of punishment that is (mostly) delved out for horrible crimes against humanity. Of course here is Australia we chose long ago to abolish such an approach to delivering justice, I believe mainly because we had become a mature nation with no need to go down the path of an 'eye for an eye' road.
But my conscience starts to waver when we see that Mr Hussein has finally been delivered a piece of his own form of 'justice' and will now be given the hang 'em high treatment.
True to form Mr Stanhope has seen fit again to contribute, passing some interesting judgement about another country's legal proceedings as they relate to the sentencing of Mr Hussein – now granted Mr Howard did see fit to comment as 'our leader'.
The comment I found most interesting from Our Brave Leader here in the ACT was enlightening to say the least:
Mr Stanhope said Australia ostensibly opposed the death penalty, yet its refusal to reiterate that opposition when other nations handed down death sentences – except when it involved Australian prisoners – created an air of ambivalence that was impossible to dispel, at home or abroad.
So….
a) the spawn of satan himself should be allowed to roam the planet again even though an undisclosed number of people from all arabic tribes in and around Iraq suffered for decades under his torturous rule. OR
b)take the medicine dished out to him by a court of law mandated by its government to deliver the death sentence as it sees fit. OR
c) Mr Hussein should be provided with an undisclosed, underground residence (much like the one in which he was found quivering in whilst hiding from US forces) for the term of his natural life.
[ED – Personally I like T-Shirt Hell's take on this.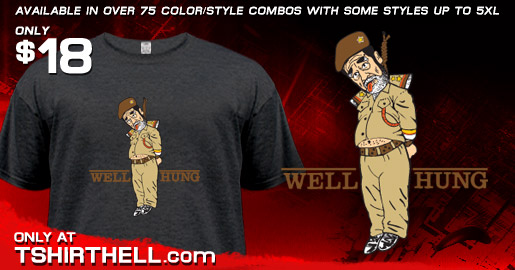 Please please please Mr. Stanhope write them an outraged letter as I'd love to see it on a thing page]