The teacher pay saga is dragging on with another strike, across all electorates, held this morning.
The ABC reports hundreds of teachers turned up to the rally outside the Legislative Assembly, and it sure looked like a larger than usual turnout.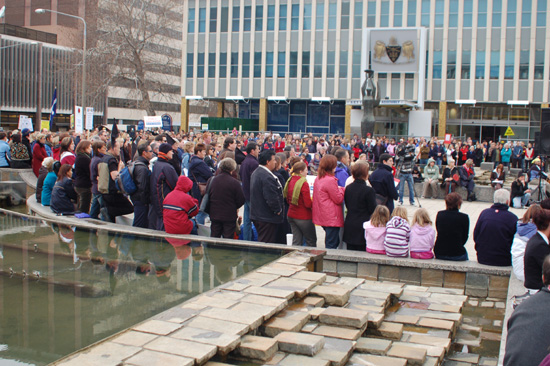 Late yesterday afternoon the Government put forward another pay offer, this time a 10.8 per cent rise over three years with less cuts in conditions. The union, however, rejected it and is still holding out for 12 per cent. In the small amount of time I was at the protest there was much grumbling about the way education minister Andrew Barr had gone about putting this offer — the woman speaking claimed he had effectively gone to the media first and called the union only just before the news bulletins.
Liberal education spokeswoman Vicki Dunne has also weighed into the debate, saying (predictably) the government has acted appallingly. In this morning's Canberra Times, Mrs Dunne proposed a compromise deal of and 8 per cent rise over two years with re-negotiations starting in the next couple of years when the Government will have a bit more money. That seems to make sense to me.