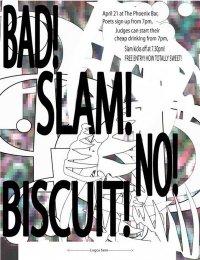 The poetry slam craze is coming to Civic with a new slam starting at the Phoenix, planned for every third Tuesday of the month.
This from the event's Facebook page:
BAD!SLAM!NO!BISCUIT! @ THE PHOENIX, East Row Civic, the third Tuesday of every month
Yes, you read right, BAD!SLAM!NO!BISCUIT! @ THE PHOENIX
Sign-up 7pm, SLAMMING starts at 7:30pm; it is all over by 11pm

SPOKEN WORD, POETRY, RHYMING, HIP HOP, VERSE, MANIFESTOS, SHOPPING LISTS, RANTS, PRAYERS – WHATEVER YOU'VE GOT WE WANT TO HEAR IT!

BAD!SLAM!NO!BISCUIT! is a new Poetry Slam starting in THE CANBERRA that will give ANYONE a microphone, and audience, and 2 MINUTES to perform WHATEVER. They will then be JUDGED by five judges chosen from the audience who PREFERABLY HATE POETRY, BUT WHO LOVE BEER!

Yes, we will be hoping to get our poetry-hating judges as drunk as possible as they score YOU between 10 and Negative Infinity! The highest and lowest scores are dropped, and the three remaining numbers are added together WITH A CALCULATOR and the highest score WILL WIN FIRST PRIZE. Not to be out done by other Poetry Slams that only have one first prize, a random scoring system will be used to produce a second FIRST PRIZE WINNER! YES! Two winners. Then, again to doubly not be undone, a third person who has never slammed before, also wins!!!!!! Three winners! Exclamation mark!

PRIZES: if you come first by scoring the most, you will receive CASH MONEY from the CHAMBERPOT OF DESTINY! If you come first by whatever cockamamie idea we've had then you will receive SOME STUFF probably a cabbage from the SIDE OF THE ROAD OF DESTINY. And finally, the third first prize will be an encouraging CERTIFICATE OF MERIT from the BAR COASTER OF DESTINY.

BAD!SLAM!NO!BISCUIT!
April 21 at The Phoenix Bar, in the bus interchange
Poets sign up from 7pm, Judges can start their cheap drinking from 7pm, Slam kicks off at 7.30pm!
FREE ENTRY! HOW TOTALLY SWEET!