[ED – I thought this looked interesting, with a cast made of up some of the most exciting young talent in this town]
MEDIA RELEASE
11th April 2007
Strange Bird and the WET Season present
a development performance of
Bring Me the Head of Edgar Allan Poe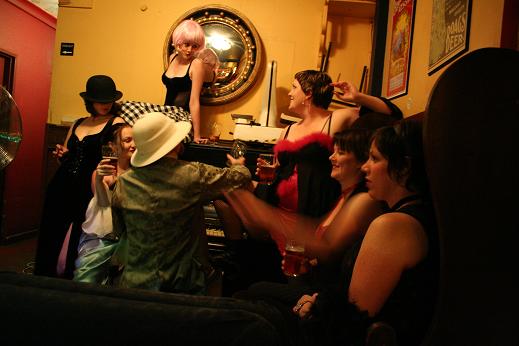 Bring Me the Head of Edgar Allan Poe, the newest play from Canberra writer Adam Hadley, opens with the grotesque funeral of a murdered prostitute and ends with the terrified screams of a man buried alive. Set on a jungle island out of time and space, the play veers from tragedy into comedy and back again, exploring the mystery of Edgar Allan Poe's death with speculation, fantasy and sheer unadulterated weirdness.
Bring Me the Head of Edgar Allan Poe has evolved over months of workshops and rehearsals after writer Adam Hadley and director Naomi Milthorpe (incorporating under the name of Strange Bird) received a Development grant from artsACT. The project is halfway through the process of development and thus far has involved collaboration between some of Canberra's finest young artists to develop a truly original, multi-artform piece incorporating traditional theatre, live organic sound, film, and original animations by Arran McKenna.
Bring Me the Head of Edgar Allan Poe focuses thematically on the cult of literary figures, on the way we construct and deconstruct those we love – our immediate circle and those artistic figures we hold dear – and on the ways human beings damn themselves through art, love, and addiction. It explores how art, love, literature and celebrity are made and lost.
Featuring Joel Barcham, Owen Collins, Petra Elliott, David Finnigan, Pat Gordon, Jack Lloyd, Chris Rooks, Tain Stangret, and Rachael Teding van Berkhout.
Original animations by Arran McKenna.
There will be a public development performance of the piece as part of Belconnen Theatre's WET Season, on Thursday May 3 at 8pm. There will be an informal Q&A session with the audience after the performance in order to gain feedback and criticism on the script and development of the show. There will also be a special invitation only showing on Friday May 4 at 8pm, with a formal forum following the performance.
STRANGE BIRD and THE WET SEASON PRESENT
a development performance of
BRING ME THE HEAD OF EDGAR ALLAN POE
Written by Adam Hadley
Directed by Naomi Milthorpe
Belconnen Theatre
Thursday May 3 @ 8pm and Friday May 4 @ 8pm
Free entry
For information on the show, or to book a place at the performance, please contact Naomi Milthorpe on 0408 631 387 or email strangebirdtheatre@gmail.com.
Bring Me the Head of Edgar Allan Poe gratefully acknowledges the support of Belconnen Theatre, the WET Season, CityNews, Canberra Youth Theatre, and the ACT Government.
Read more about the WET Season at www.belcomserv.com.au/art/wet