I've been a busy boy this last week, so this isn't entirely timely, but I want to follow up on johnboy's post last week, in which the ANZAC Day Dawn Service's "insipid orange bulbed fake electric candles" were mentioned.
From the point of view of this foreigner, johnboy forgot the finest thing about the candles: the utilization of marketing potential.
On the front side, the candles had the logo and description of the war memorial:
(image quality is crappy, I admit it — the only digital camera I have has less megapixels than 99% of phones these days)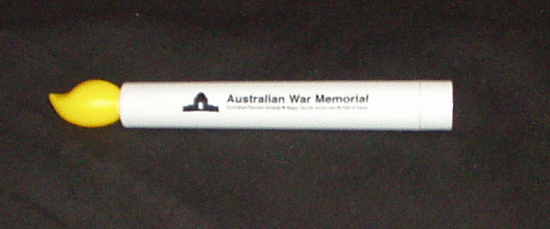 It reads:
"Australian War Memorial
Australian Tourism Awards * Major Tourist Attraction * Hall of Fame"
Fair enough. Sponsored by the war memorial, brought to you at the war memorial.
But the back side was a piece of pure marketing genius. A small window was fitted into the candle allowing — in all the candles this foreigner could see — perfect view of the company and battery providing the insipid fake electric glow:

The battery is tightly placed within the candle, and all attempts to shake or hit the candle did nothing to displace Duracell from its prominent windowed position. Stadiums have advertising sponsors these days, I guess it only makes sense that national memorial days should, too.
No matter, this seppo thoroughly enjoyed his first Duracell ANZAC Day Copper Top Dawn Service.