On Saturday 08-APR-06 we did the Civic Public Art Walking Tour and lived to tell the tale.
And so, I present to you item # 13, Commemoration by Malcolm Munro. You can find it on London Circuit opposite Civic Square.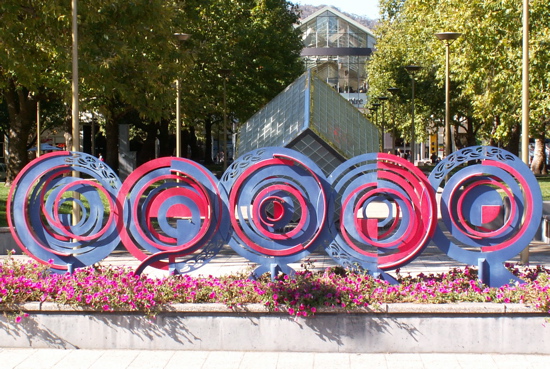 So what are we commemorating in this prime piece of real estate? Firefighters? Police? Victims of the Air Disaster?
The guide had this to say:
This sculpture is dedicated to the volunteers
and torch bearers who contributed to
the 2000 Olympic and Paralympic
games in Canberra.
Yep, four soccer games, grass painted green, and the participants of the torch relay with a fading sculpture that skirts the IOC's copyright adroitly.
Got an image in, or of Canberra you want to share with the world? Email it to johnboy@the-riotact.com