Where: Griffith Shops
Cost: $25 (exc BYO booze)
Phone: 6295 6505
Date Reviewed: 12-NOV-06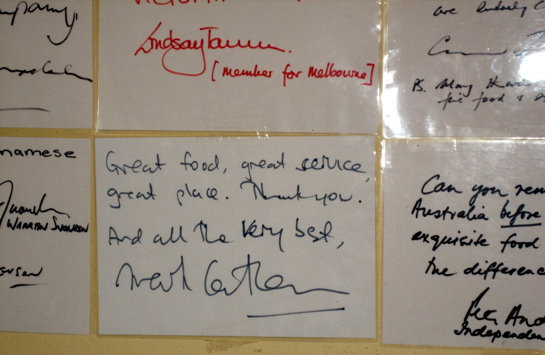 There's an odd little gem of a restaurant lurking in the Griffith shops. It's a good honest suburban Vietnamese restaurant. They can happily sit a large group down to a cheap and tasty banquet, and they're very friendly to BYO.
The value for money is reason enough to go, but they've also got a very interesting gimmick. Due to their inner south location, and the ability of a politician to sniff out a good deal from miles away, they're frequented by the nation's Members of Parliament (not normally sighted in the general community) and it's become a tradition for visiting celebrities (and aspiring celebrities) to write a commendation on a sheet of A4 and the restaurant duly laminates it and sticks it on the wall. As you can see in the above picture Mark Latham and his childish scrawl were enthusiastic regulars (and if the public had seen it before the last election he might well have lost even bigger).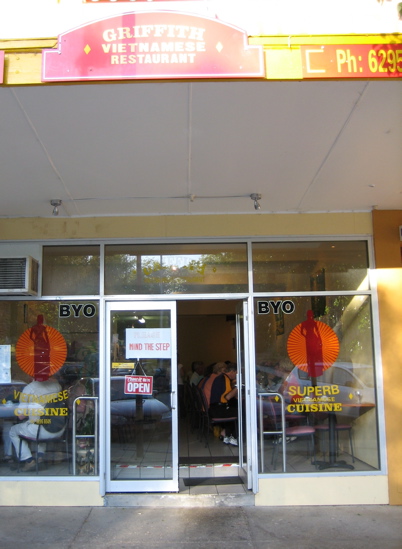 The result is endlessly fascinating to the politically minded. The conversation over dinner can wheel for hours on the subject of each MP's note. What do you think of the hand-writing? What about the message?
It is frankly astonishing how many well meant messages manage to be racist and ignorant and that too can keep the cognoscenti chattering through the entrees. A good example is Ten's Bonge and his effort, particularly considering how many Vietnamese in Australia fled the communists.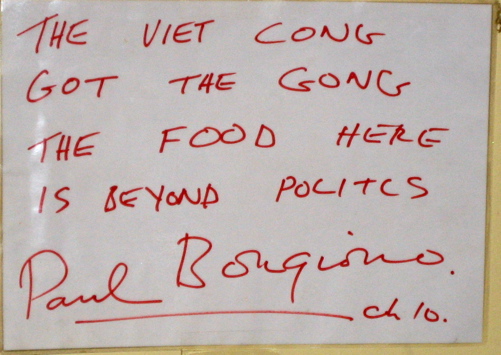 Would-be-if-they-could-be types also have a section of wall and are almost as amusing, if only to see who has tickets on themselves in our community. RiotACT asked for permission to take photographs inside the restaurant but did not feel the need to shamelessly self-promote.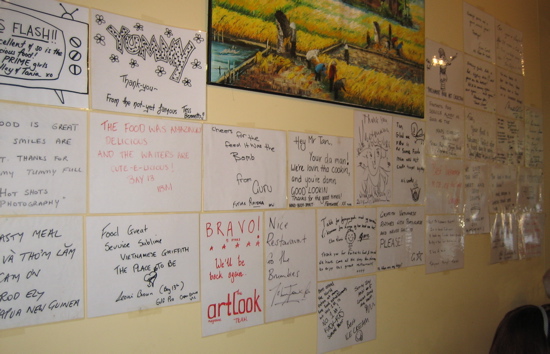 The service is, by the standards of family run suburban restaurants, absolutely top notch. Competent, friendly, and all importantly letting people know how many serves each are on a dish, a must for banquet dining. No longer do you need to count all the spring rolls and divide by 17 to figure out how many you can take as they swing by your place at the table.
Also importanlty for a banquet they're more than happy to take a budget ("we'd like to pay $25 each") and go away and cook to it. No muss, no fuss, no time wasted negotiating agreement from a large group trying to comprehend a long menu. Just sit back and let yourself be surprised.
Aside from the significant entertainment of the testimonials what makes the place is lots of good, tasty Vietnamese (and a bit of malay) food at a very reasonable price in a friendly atmosphere, and no hassles.