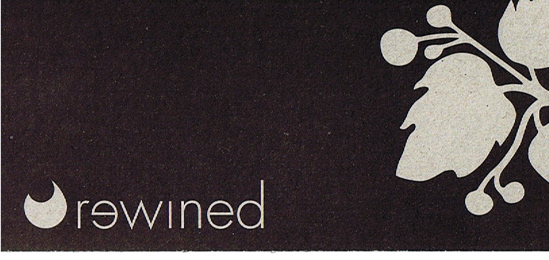 In quite a few of the Local Liquors around town you can find Rewined, the brainchild of the sisters, Sarah and Jaime Lunney. It's a wine bottle recycling scheme with some pretty decent wine in the bottles.
Basically if you go to a Rewined outlet you can buy a litre bottle of wine (several varieties) with a swing top lid (and a shrinkwrapped quality seal) for $14.
If you wash out your bottle and take it back next time you can get another one for $11.
I bought a bottle of Shiraz at the Bus Depot Markets. It's an attractive decagonal 1 litre bottle, made of clear glass with a swing top. Rather handy for picnics I'd imagine.
On the reverse of the above flyer they mention that "most" of their wine comes from their family vineyard, Four Winds of Murrumbateman.
Whatever the provenance of the shiraz I ended up with it was a perfect table wine. For $11 a litre I don't expect greatness, and for a shiraz it was on the light side with not much of the distinctive blackberry and pepper that a great shiraz should serve up in spades. But is is an eminently quaffable and fun red wine, perfect for sharing with friends over food.
It's a neat idea, it's well priced, the wine is good, and it's better for the environment than melting down recycled glass and re-smelting it.
You can get in on the act at the following Local Liquors's: Ainslie, Chapman, Cook, Florey, Hackett, Hawker, Holder, Kingston, Lyneham, McKellar, Richardson, Yarralumla. And also at; Australian Wine Brokers, Braddon, Gundaroo Wine Bar, Kingston Bus Depot Markets, Oaks Estate vintage cellars.