Here's a picture out of WIN news, video to follow, of Mr. Stanhope weeping over the hurt caused to his wife by Liberal beastliness.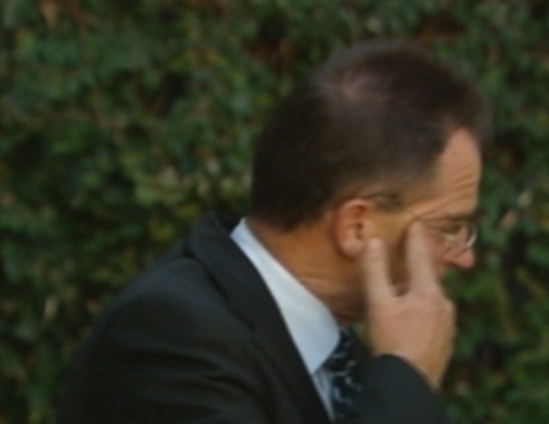 Something apparently is a "Mongrel act by a mongrel party". At this stage we're unsure whether the mongrel act is:
a) asking why the acting Minister for Emergency Services was incommunicado, as rivers of fire surged towards our city, the night before Duffy burned down, or
b) spreading the same sort of nasty rumours about Mr. Stanhope's love life that his cohorts in the ALP took (and take) such glee in spreading about Kate Carnell.
Better minds than ours have it all figured out we're sure.
No sign of an apology to the whole of Tuggeranong for using it as a pejorative and suggesting is is a place where Brendan Smyth should return to get "down with the cigarette butts and the dog turds and the wasted life".
And here's the video:
Interesting both ABC and WIN are ignoring Mr. Stanhope's bizarre comments and leading with his line that this is about the rumours.
The rumours have been out there for at least 3 1/2 years and only now he goes weepy for the cameras about it?