Another month, this time blighted by technical difficulties, saw the absolute unique visitors drop but the other stats are looking extremely positive.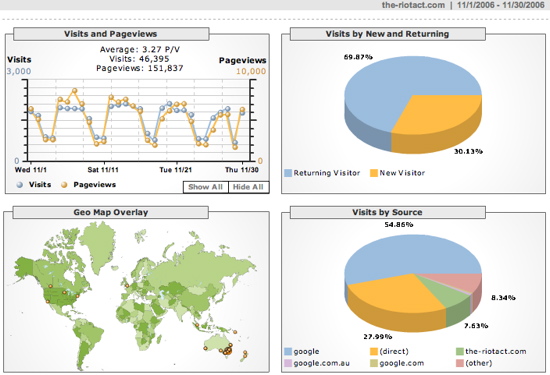 Absolute unique visitors clocked in at 16,523 down slightly from 17,119. (it's not a bad day in web publishing when 500 readers is a very minor blip). In spite of the system trouble for a week and the smaller number of people visiting you each clocked up more views, 151,837 up from 134,430. Possibly more significant there are now 8988 of you counted as "Very loyal" compared to 7486 last month.
And now your favourite bit, content and referrers (time to look to see who's googling you).
Most visited pages this month:
1) Cup day Canberra style
2) Another fatality from a police chase
3) Amber Jane Westin – In profile
4) Another fatality from a police chase – UPDATED
5) More CrazyChester!
6) Where to pick up chicks?
7) Canberra's gay beats
8) A series of questions from oz_uni
9) DJ DID NOTHING WRONG
10) Where to pick up hot guys?
11) Canberra Centre expansion opens; RA not attending
12) What will be left in the old Civic?
13) Why RiotACT won't be covering the PM's XI
14) Taser used in West Belconnen
15) Cat Empire in Commonwealth Park, the Big Soul Show 19-NOV-06
16) Are my comments too inflammatory?
17) Who's got the power in Canberra?
18) Deleting comments
19) Crikey on the Pratt
20) No short shorts for Lyneham
21) Not guilty of being deliberately misleading, it's just an episode of lazy reporting [In Boomacat's incompetent opinion]
22) Assault in the watch-house
23) Pratt takes a chunk out of Jorian
24) State of the Riot – October 2006
25) Rain, heavy rain!
And the always eagerly devoured search engine referral terms are:
1. riot act
2. riotact
3. "gareth higgins"
4. the riot act
5. the riotact
6. zierholz
7. hackett preschool
8. temora
9. limestone lizzie
10. "benno1"
11. tattoo canberra
12. absinthe
13. ghosts
14. young and restless
15. al grassby statue
16. "riotact"
17. the riot-act
18. crazy chester
19. glen porritt
20. al grassby mafia
21. crazychester
22. tom woodward
23. defence headquarters
24. return
25. paintball
26. "george wason" investment
27. "jim jones" alp
28. "magna carta place"
29. barking toad
30. "southern cross club" +"right to life" +donations
31. canberra cabs
32. pierce
33. pick up hot guys
34. steve pratt
35. david mclaughlin
36. manuka oval seating
37. cup day
38. zed seselja
39. the way hip antelopes
40. mawson club
41. "phil thompson" act
42. riot act canberra
43. peter dunn resignation canberra
44. steven hillier
45. hayley jensen
46. tad
47. mr_shab
48. csc barton
49. computer
50. monster truck
51. ucsa
52. pratt "gary kent"
53. cougar computers
54. tad dufelmeier
55. nyssa76
56. santa pub crawl
57. anu singh
58. thumper ses
59. melba
60. walking tour
61. gay
62. fireweed canberra
63. "green devil" hunstone
64. schmick as
65. "capt_benno"
66. firies
67. site://the-riotact.com cleo dickson
68. paintball canberra
69. tower
70. site:// the-riotact.com aiden bruford
71. walk up mt ainslie
72. canberra liberals
73. lady wilson
74. pissing
75. screen act
76. atheist elves
77. email interview andrew barr
78. paid parking in canberra
79. defence hq bungendore new
80. "christina mico"
81. land tax canberra
82. john james hospital
83. canberra computer fair
84. phnom penh restaurant belconnen
85. canberra raiders discussion
86. zierholz brewery
87. jigsaw creamery
88. two peas no pod
89. capital radio apology
90. bogan names
91. volunteers
92. action
93. loadeddog canberra
94. john b1_b5
95. radio ratings canberra june 2006
96. 2ca kingston
97. royals
98. akido canberra
99. canberra raiders
100. lake george
101. wyvernsridge
102. citynews
103. links
104. house of representatives hansard emerson "canberr
105. brand depot
106. canberra taxi
107. dragway
108. department of education
109. adventure paintball
110. denman
111. david john mclaughlin canberra
112. rugby podcast
113. "john bundock"+australia
114. corrie lee
115. riotact canberra
116. roland manderson
117. riot-act
118. loaded dog
119. jon stanhope's ministerial code of conduct
120. gay beats
121. queanbeyan showgirl
122. local music
123. "molonglo valley"
124. the riot act canberra
125. landspeed
126. just bands
127. asio
128. farmer's market canberra
129. canberra raiders forum
130. santa pub crawl canberra
131. pot belly battle of the bands 06
132. alexander
133. brand depot canberra
134. mulcahy
135. bogans
136. canberra "internet cafe"
137. cit fashion
138. crikey dr mal washer
139. gold creek blog
140. loadedog
141. crazychester blog
142. infidel studios queanbeyan
143. talking boonie
144. rhodium
145. wasabi dickson
146. lake george ghost
147. multicultural festival
148. the–riotact.com
149. crazychester canberra
150. black mountain tower restaurant
151. oktoberfest canberra
152. griffith library closure
153. "wonsworld"
154. weather
155. andrew barr homosexual mla
156. bill lyristakis real estate
157. cat award
158. richard mulcahy
159. dfat child
160. raymond j bartholomew
161. "canberra philharmonic"
162. glenloch interchange
163. pot belly battle of the bands 2006
164. david mclaughlin
165. posting
166. barrel of monkeys site:the-riotact.com
167. nightclub canberra
168. state focus
169. the dinner party
170. jamo inn
171. schmerica canberra
172. bollards parliament house
173. "cold heart projects
174. 2xx fm
175. b bar kingston
176. keep cook open
177. malcolm farr
178. bus roadeo
179. lyneham
180. poachers pantry
181. crazy chester the-riotact.com
182. jack waterford
183. natalie colbert
184. site:the-riotact.com "gareth higgins"
185. spirits of the dead canberra
186. markus mannheim
187. "cameron offices" demolition
188. "barrel of monkeys" + canberra +reviews
189. griffin centre
190. belconnen busway
191. metal for the brain
192. randomgit
193. "gary kent" email
194. and was disappointed
195. taxi canberra
196. cafe essen canberra
197. roger david woden
198. glenloch
199. paris calling
200. amber jane westin
201. "ibn news"
202. jessica french
203. squirt
204. "seasoned slow sunday"
205. the riot ac t
206. stage 3 water restrictions actewagl
207. brothel canberra
208. fireworks
209. greenlight
210. sage gorman canberra
211. "kate carnell" "jim murphy"
212. boys pissing
213. chester
214. needs to be glassed
215. canberra raiders court cases o'sullivan
216. tiabunna
217. tower restaurant black mountain
218. "labor club" civic
219. link:www.theconcat.com.au
220. clea rose
221. canberra centre expansion
222. dj mclaughlin
223. cube
224. pissing boys
225. suspicious package woden plaza
226. longstay caravan park narrabundah
227. artistic nude
228. "riot act"
229. "griffith library"
230. roland riot act
231. act parliament video streaming
232. los capitanes
233. santa pub crawl 2006
234. ari
235. christmas tree competition
236. youth issues
237. belconnen busway cost benefit analysis
238. canberra brand depot opening date
239. raves
240. micfest
241. "david mclaughlin" dj cops
242. canberra paintball
243. stateline
244. recording
245. central cafe
246. 2cc
247. simon woolford
248. regatta point canberra
249. canberra vikings
250. beer for comment
251. canberra brothels
252. gurunik
253. "do not run from the police"
254. dotars
255. simon corbell and anu medical school canberra
256. mosaic
257. the italian kitchen, kaleen
258. mclaughlin
259. al grassby statues
260. crikey
261. join labor faction
262. zierholz riotact
263. "state focus"
264. demo recording
265. channel 7 podcast
266. onewayfare canberra
267. streetrides act
268. amber petty
269. brindabella challenge
270. gay sauna canberra
271. loadeddog
272. the-riotact
273. barrel of monkeys canberra band myspace
274. eros foundation
275. briony young
276. useless canberra cabs
277. canberra taxi service
278. sage restaurant canberra
279. christmas trees canberra
280. canberra computer
281. live in canberra
282. canberra cabs alternative
283. canberra carillion
284. "katy gallagher"
285. bellucis
286. the terrace manuka
287. "missing lincolns"
288. christmas trees
289. embryonic canberra band
290. stabbing
291. "john griffiths" johnboy
292. bus lane to city
293. dances with nutters
294. noodle house
295. revolve canberra
296. gary kent adviser
297. save our schools, act
298. "canberra centre" november
299. belconnen mall
300. can tho
301. channelvision
302. dickson noodle house
303. virginia hausegger
304. act liberal party
305. marise payne
306. "mawson club"
307. lake george australia
308. westfield woden
309. tim blair
310. tortilla press
311. action bus strikes canberra september
312. canberra public housing wasted money ainslie
313. rocksalt canberra
314. good guys tuggeranong
315. modelling in canberra
316. tattoo north lyneham
317. canberra connect
318. jesters pies
319. canberra civic square
320. pigdog
321. riot act act
322. kambah
323. computer fair canberra
324. bit reactor.to
325. how to pick up chicks
326. mftb
327. rioact
328. teppanyaki
329. neil henry raiders coach
330. canberra massage
331. john hargreaves
332. 2cc newsroom
333. canberra tattoo
334. cyclist motorist
335. antonov
336. www.the-riotact.com
337. menutree canberra
338. uriarra crossing
339. brothels canberra
340. hot guys
341. cube +stabbed +death
342. carillion canberra
343. ikea canberra
344. when did rural press buy the canberra times
345. kimba
346. beer
347. charcoal restaurant canberra
348. night train
349. porritt
350. canberra connect shopfront
351. cameron offices
352. vg
353. spray stencils
354. mark divin
355. "gary kent" liberal
356. tssh
357. toast nightclub
358. transact
359. nastykindagal
360. batemans marine park
361. centrelink fraud
362. new canberra centre
363. patrick carr
364. snarky
365. amber westin
366. karin macdonald
367. canberra brothel
368. actpla
369. rubees
370. "konstantinou group"
371. ibn news
372. flexbus
373. rock salt hawker
374. alan shortall
375. richard mulcahy scum
376. ted quinlan
377. johnboy
378. nsw p plater restrictions
379. superb parrot
380. krispy kreme canberra
381. cougar computers canberra
382. bronze solarium
383. casual jobs canberra
384. jessica rodgers
385. kent +pratt +mulcahy
386. gary kent
387. haunted canberra
388. canberra brewers
389. molonglo valley
390. "amber jane westin"
391. mclaughlin
392. nightrider bus canberra
393. eboni stocks
394. labor club
395. "section 84"
396. andrew barr city news
397. griffin centre canberra
398. koomarri
399. antonov canberra
400. katy gallagher
401. "fiona patten" eros
402. donuts in canberra
403. australia's bermuda triangle of mystery?
404. farmers union iced coffee
405. gregor manson
406. farmers market woden
407. canberra oval closures
408. "password" site:the-riotact.com
409. concat
410. massage canberra
411. zierholz german ale
412. fyshwick markets
413. "markus mannheim"
414. wendy rule
415. perpetual water
416. wireless broadband canberra
417. parking airport
418. "immigration bridge"
419. computer markets canberra
420. ying tong a walk with the goons
421. santa claus pub crawl canberra
422. ambulance
423. burlesque anu december
424. koomari
425. electric shadows
426. dj typhonic
427. dendy canberra
428. marco polo canberra band
429. canberra centre extension
430. santa pub crawl canberra 2006
431. rental auctions
432. parkes
433. national wine show 2006
434. www.the.riotact.com
435. stanhope leak ct law
436. griffith library
437. rocksalt hawker
438. watch this roof
439. canberra belconnen mall
440. canberra + weekend work
441. maurizio rao
442. absinthe
443. ucu
444. gay canberra
445. al grassby statue act
446. lincoln hawkins
447. wasabi dickson teppanyaki
448. canberra santa pub crawl
449. westfield belconnen
450. redletter your planes fill the sky review
451. braidwood car accident
452. lifeline + southern cross + stefaniak
453. asian groceries canberra
454. serco sodexho
455. special g november
456. drink spiking canberra toast
457. paint ball canberra
458. george smith
459. vicki dunne
460. beat retreat
461. dickson college
462. the tower restaurant
463. phoenix bar canberra
464. krispy kreme woden
465. canberra images
466. barr
467. react roofing
468. pasquale barbaro
469. drought
470. steve pratt
471. silver service canberra
472. riot act
473. shane webke
474. supa productions
475. barbaro
476. dfo canberra
477. steffi
478. canberra hospital
479. evacuation
480. insinkerators
481. wok it up gungahlin
482. musica e
483. bogan baby names
484. neighbourhood watch canberra
485. gawad kalinga
486. siev x memorial
487. queanbeyan chronicle
488. jigsaw frozen custard
489. act riot
490. squirts.org
491. mark higgs
492. griffith vietnamese
493. noodle house dickson menu
494. leonie
495. robert fisk anu podcast
496. tracey buggy
497. george smith haircut
498. rugby podcasts
499. new shops canberra centre
500. dickson tradies