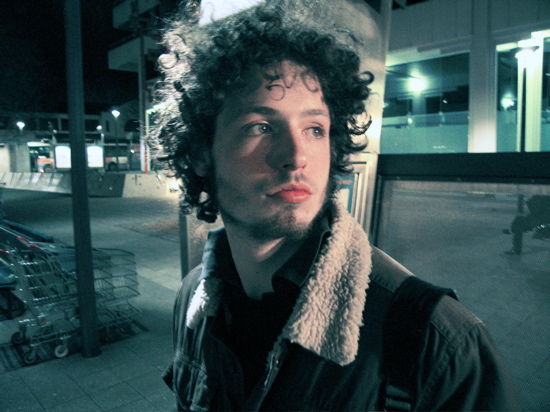 Tom Woodward has sent out a lengthy media release to explain himself and his place in the world.
The salient detail is that he's launching a new CD:
Blue Day Requiem is being launched at the National Multicultural Fringe Festival, Wednesday February 7 th, 9.30pm , Civic Square
Oh, and he isn't a Bob Dylan imitator, really.
Media Release
2007-01-17
Arts & Music

THE IMITATOR WHO STRUCK GOLD IN JUST BEING HIMSELF

Tom Woodward began performing at the age of fourteen, at the now defunct Gypsy Bar. They were a considerate enough venue to have an underages night, called melodic minors, every Tuesday evening. Tom played an electric guitar, had frizzy bleach blonde hair and a baby face, his voice still unbroken. Usually one or two people sat in the audience sipping lemonade, curious to see what the baby face with the girly voice had to say. A few years later, his voice had dropped three octaves and he had well and truly lost the baby face. In those days people sat in the crowd sipping wine (instead of lemonade), wondering whether they had just stepped through a vortex into Greenwich Village, circa 1961. "Is that a young Bob Dylan?" They briefly stopped to think, in between chardonnay.

Tom Woodward is now adamant that he is not trying to be Bob Dylan. He hopes and prays that his debut studio album, Blue Day Requiem, will help assuage the recent five year flow of Bob Dylan comparisons. But as much as Woodward says he is tired of being compared to Bob Dylan, he can't say he didn't ask for it. "Bob Dylan was a huge influence on me when I was about fifteen. Almost overnight I went from trying to be Kurt Cobain to trying to be Bob Dylan." And the change was definitely noticed in the small but rustically charming venues Woodward chose to play in. "Basically, one week I was in the Gypsy Bar with a distortion pedal and a heavy metal drummer behind me, and the next I was opening shows for David Branson at the Currong Theatre, with an acoustic guitar and ten minute songs dedicated to the age-old themes of existential angst and social justice." To make matters worse, at the age of 18 he was on the bill at the National Folk Festival where he entered himself into the "Inspired Bob Dylan Song Competition". An electrifying and overtly Dylanesque version of Girl of the North Country won him third place, and of course more (and sometimes derogatory) Bob Dylan comparisons.

Now, at the age of 22, Woodward is happy to leave the Bob Dylan mantle behind him. "For a while, every time I did anything, I would consciously try and separate myself from the Bob Dylan thing. It was like: 'will this earn me another comparison'? They were getting very passé, and this was a very creatively restricting way to exist." By 2005, he had almost stopped playing music altogether. "I moved to Melbourne and decided to try my luck at writing. It was another almost overnight change, but this time I wanted to be George Orwell." For a year and a half he bummed around between Melbourne and Canberra , playing music occasionally, but spending most of his time locked away, writing like a demon.

The final overnight change happened in mid 2006, when he had been struggling on the same book for nearly two years. "I was depressed. I had no money, no future; no reason to stick around really. I basically just decided to quit writing, quit everything, move out to the country and work on a farm." For three months he picked peaches on a small farm north-west of Sydney, totally isolated from the trappings of his old life. "Basically I saved money, and that was a novel thing for me, because I've never had any money." When he came back to Canberra, the first thing he did was invest in recording all the songs he had written out on the farm. "I no longer felt the need to try and imitate anybody else. The new songs felt like the most honest things I'd ever written, and I had some of the best musicians in the country willing to put down tracks for me." After an intensive period of writing, mixing and arranging, he sent the recordings off to be mastered by Don Bartley, one of Australia's most prominent masterers.

The final product is Blue Day Requiem, an eleven song journey into the mind of a man unafraid to turn over every psychological leaf; a deeply moving discovery of the limits and capabilities of ones own existence. "I am really happy with this album," he says. "I think it's the first thing I've done I can really be proud of."
And in a career spanning eight years, it seems the Cobain turned Dylan turned Orwell imitator, is quite happy to just be who he is: a songwriter named Tom Woodward.

Blue Day Requiem is being launched at the National Multicultural Fringe Festival, Wednesday February 7 th, 9.30pm , Civic Square.