The other night JB enthusiastically asked me if I wanted to go to the Electric Shadows screening of the Rocky Horror Picture Show. Being a [Rocky Horror] Virgin, I agreed without really being sure what I was in for.
We arrived early to ensure getting tickets and drank a beer, watching as people wearing exciting costumes turned up.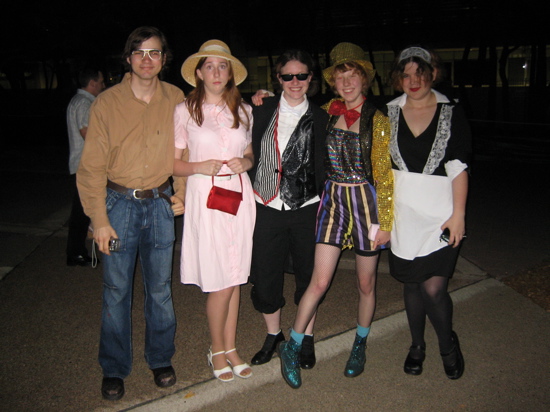 The majority of the crowd, particularly those dressed up, was older women; although there were a surprising number of young people (including a very enthusiastic pair of girls, made up as Riff Raff and Magenta, who looked all of 12 and knew the movie backwards).
The show was introduced by Simon Weaving, the CT's new film critic, who also conducted a brief best dressed competition. The movie print had so many artifacts it looked as if it must have been one from the orginal 1975 run.
I had been told be several people that the movie was "…odd" and I agree with that assessment. The crowd participation was fun, though I did wonder how it got to be so regimented (Wikipedia says it just kinda happened) and I wasn't so sure about getting wet. I did notice that there seemed to be a lot more participation stuff in the first half of the film than the second half and wondered if any others got a little sleepy like me (though that is just my habit). There was one guy who ad libbed quite a lot of (mostly funny) responses until someone up the back of the theatre heckled him.
The finale seemed kind of poignant with Frank N Furter looking so wet and forlorn, but given there'd been no real character development (or much real plot) it just was kind of like noticing a lost dog as you drive past. That said, the upbeat rock numbers kept bringing me back out my sleepiness and making my toes tap and it was a fun night.