I've been meaning to go to carols at Lanyon for ages. But you know how it is, so much to do on Sunday afternoons, and Lanyon beyond the end of the earth (or at least the end of Canberra). But this year I did it. This year I went.
Did it have anything to do with a girlfriend with a slightly disturbing penchant for all things Chrimbo? Well, yes it might. I also had a friend visiting from Montreal and so it became a bit of an obligatory cultural experience.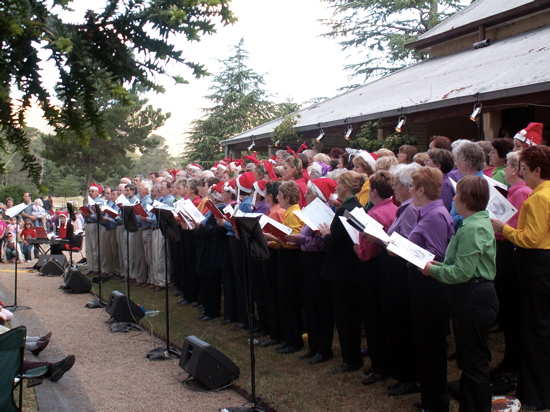 And for those with sound there's a little something I recorded with my camera (so please excuse the hisses on the peaks).
I had parental instructions to be there at 4pm.
But to an Inner Northican everything worthwhile is no more than 10 minutes drive away. So we got to Lanyon at 4.30 with a cheese plate, a bunch of grapes, two bottles of chardonnay, and a bottle of soda water for the making of spritzers.
I don't know the exact cost breakdown but three adults in the car were admitted for $10 which included programs, lyric sheets, two candles, two paper plates with holes for the candles, and superbly organised parking.
By 4.30 most of the absolute prime real estate had been taken, but the group we were joining had staked out a fair chunk for us.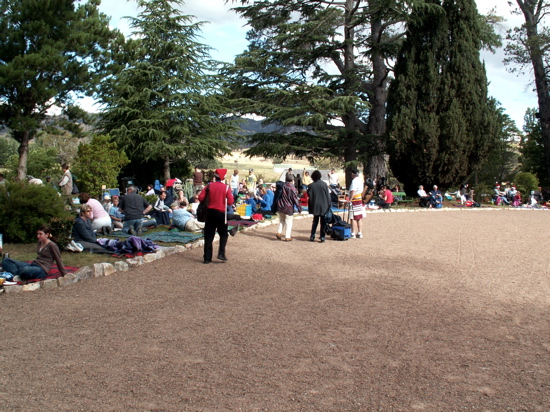 Standing around, drinking and chatting ensued.
Sunday was not warm, but thankfully not quite so arctic as the Saturday it followed. There was much discussion of how this was the first Carols at Lanyon where cold was the concern and not heat.
It turns out there is something of a tradition of laying out festive tableaux on the rugs. Competition is a fierce and serious thing. I think this one was the Second Place winning entry by the Wadell family.