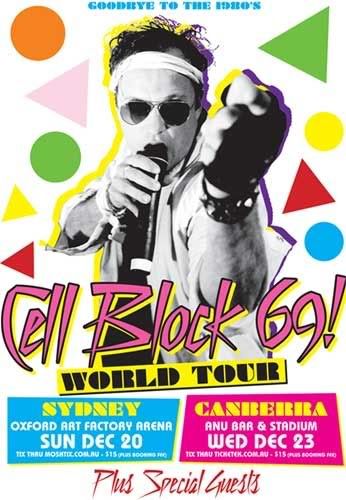 After a blazing performance at Sydney's Oxford Art Factory on Sunday night, Cell Block 69 are keen to inform the good Rock and pop fans of Canberry of just exactly where the party is at. Tonight the 23rd Dec 1989 at the ANU Bar / Stadium !
This news comes reportedly from a friend who knows this girl who's sister's boyfriend recently dated someone that slept with Corey Alxerod's hair manager.
So it's true !

Doors at 8pm
Cell Block 69 onstage at around 9pm
http://www.facebook.com/event.php?eid=186629308854&ref=mf
Tix at the Door or from Ticketek !
In other news, Corey Axlerod reveals that Cell Block 69 have fans from the future ! From the year 2009 ! That is TOTALLY AWESOME !