On Saturday 08-APR-06 we did the Civic Public Art Walking Tour and lived to tell the tale.
And so, I present to you item # 16, Twilight by Christopher Chapman and Ivan Siebel. You can find it on Ainslie Avenue. You have to hike through the Canberra Centre and up the middle of Ainslie Avenue to get there.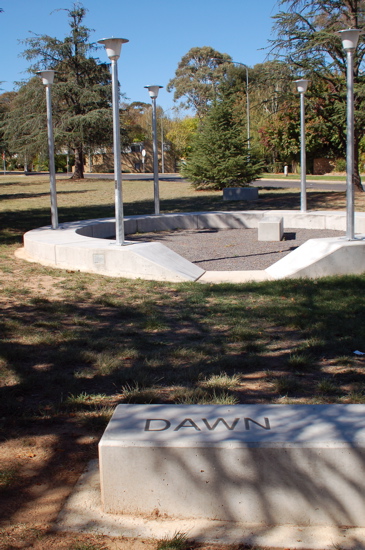 From the guide:
Twilight is an evocative and enigmatic
public art work that exists between
sculpture, architecture, and landscape
design. It may be a memorial, monument
or a meeting place. Its form relates directly
to the symbolism and geometry of
Canberra's urban plan.
It's a lonely, brutal, overgrown chunk of concrete marooned in the middle of a dual carriageway. So I think they hit the mark eh?
Got an image in, or of Canberra you want to share with the world? Email it to johnboy@the-riotact.com