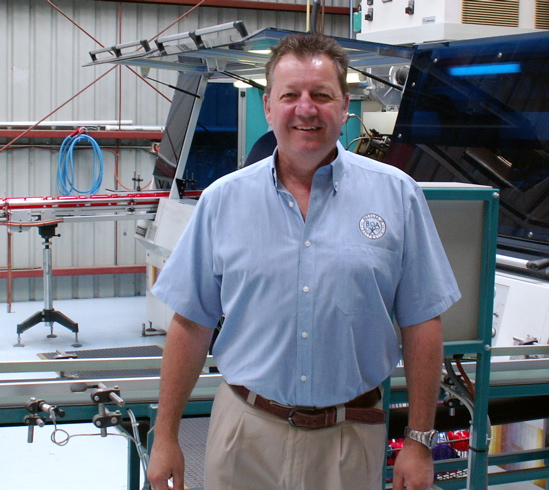 [Tony Pemmer with bottle printer]
Jazz and I ventured out to the wilds of Hume to talk to Tony Pemmer, the owner of Bottles of Australia about his operation out there. For those who want the word whole (rather than my own inadequate translation), the recording of the complete interview (with intriguing ambient sounds from the busy factory) is available (there's lots of good stuff in there).
Tony described his product as a mobile billboard delivered via plastic drink bottles. BoA employs 28 people designing the graphics to go on plastic drink bottles, the bottles themselves, and printing graphics onto bottles right here in Canberra. This is no small operation, they do runs of over 100,000 bottles for the likes of Puma, Asics, and Warner Brothers' Movie World as well as batches as small as 50. If you've got a branded plastic drink bottle have a look on the bottom and chances are it bears the BoA mark.
The business began with a $5,000 overdraft in 1989 out of a bicycle retail outlet, importing stickers from Hawaii. Eventually the drink bottles took over the business. Previously all plastic drink bottles were imported from abroad.
The production line starts with impressive stacks of boxes containing blank bottles awaiting an order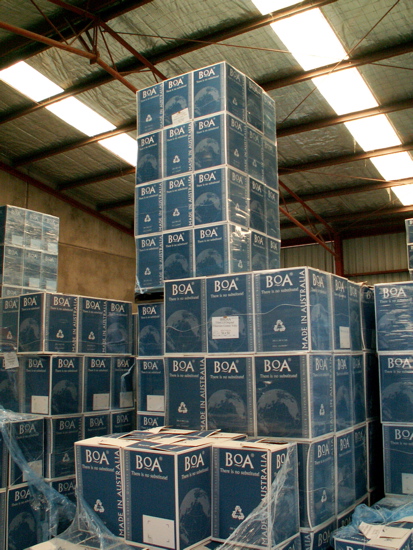 [Boxes of bottles]
The bottles have to pass through gauntlets of flamethrowers which change the surface tension to be amenable to holding ink. They stay this way for a few days before returning to their natural state.
---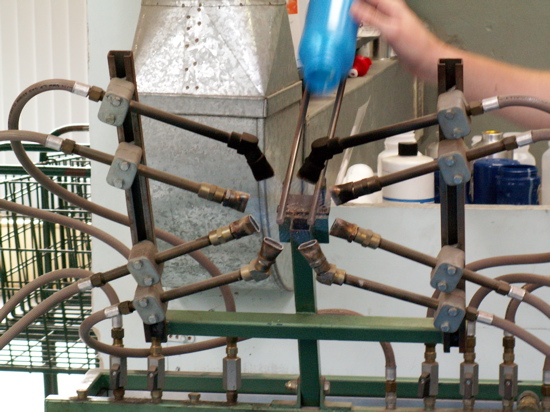 [Flaming bottles]
Organising the positioning of bottles is a key to keeping things efficient.
---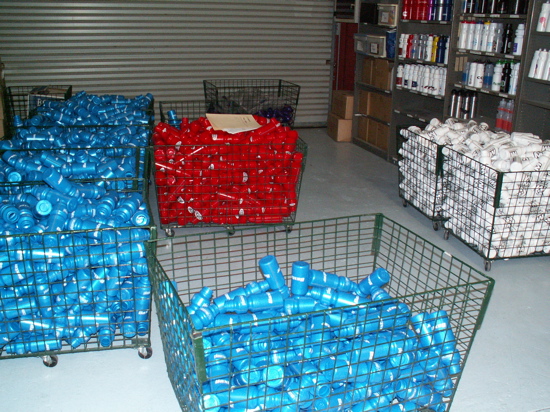 [Bundles of bottles]
The big machines automatically flame the bottles before aligning them and coating them with ultra-violet sensitive ink, a pass under a UV light then makes them ready for printing with a different colour.
---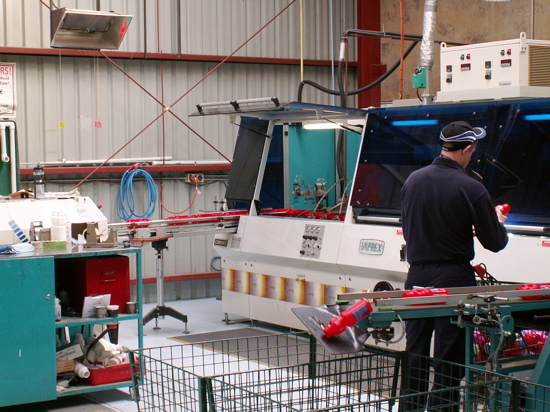 [Bottle printing machine]
---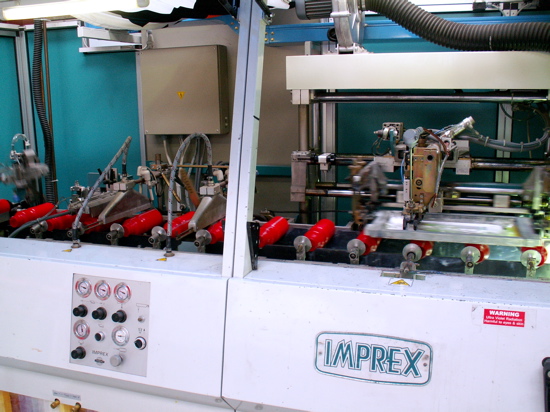 [Bottles being printed]
Here's a short video of the machinery in action:
At the end they shoot out lickety split.
---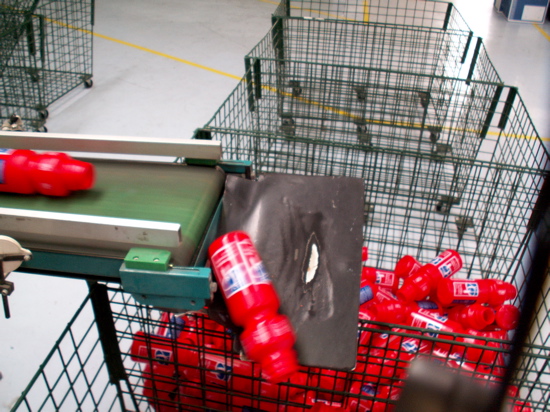 [Bottles come off the line]
For more than two colours they have a different machine which can give it the full monty:
---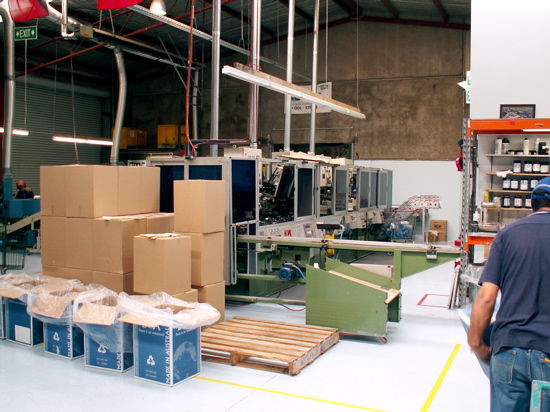 [multi colour bottle printing machine]
At the far end of the factory a team of piece workers put lids on the bottles while they check for printing errors. BoA operates at a well-better-than-industry-standard defect rate of between 1 and 3 percent.
---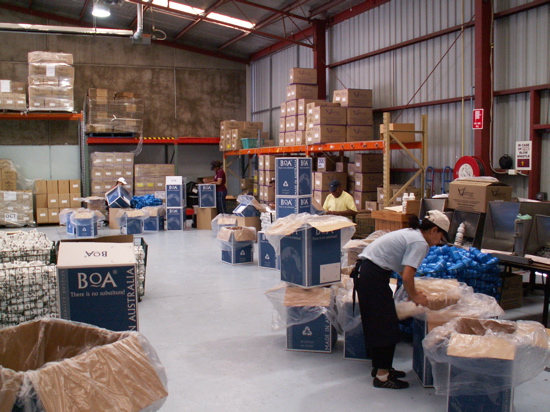 [Putting tops on the bottles]
Tony thinks location is not a major limitation in dealing with customers, being closer to Sydney just makes him further away from Melbourne. However a lack of experienced staff with manufacturing skills has stopped them getting more ambitious and building a plastic moulding plant. That work is outsourced to Sydney. It would be cheaper still to import from China (the materials alone cost more in Australia than a finished bottle from China shipped to your door) but the responsiveness of the Australian manufacturer in a rapidly evolving design environment offsets the overall costs.
As it is staff for the printing operation have to be trained in house.
Customers range from major corporations rounding out a sports fashion line and the likes of BHP down to schools and sports clubs. Drink bottles are commonly used in branding exercises and when people want a branded drink bottle there's BoA, they also do a big line in exporting.
When they started printing bottles in 1991 they took delivery of a printing machine and then started learning how to print. Tony made the point that printing a sports bottle is essentially no different to "container decorating" a shampoo bottle.
Tony started in business in Batemans Bay running a sports and bike shop aged 19. Since then he and his wife Mary have built a series of businesses in what he describes as a "tag team" bouncing ideas off each other. He credits being open to new ideas as a key to the success he's had.
Interestingly when dealing with fashion brands they have to lock in the "hot new colours" 18 months before they're unleashed on the consumer market as something new, fresh and spontaneous.
Currently Tony and Mary have the business at a point where they're toning down their day to day involvement. Tony is an advocate of trusting and empowering staff and is doing his very best to not be indispensable. "Working on the business but not in the business" is a mantra for him. He concedes that part of this is about making the business potentially sale ready. To avoid burnout he advocates all business owners treat their business as an investment rather than a lifestyle (or worse, a money pit or a job).
For those looking to start new businesses Tony advocates borrowing more than you think you'll need. The last thing any business would want is to end up six months down the line needing more money and no longer credit worthy.
Staff recruitment mostly comes through referrals, often coming through the piece workers in the lidding area. A sign outside the factory often handles recruiting needs and in the last resort an ad in the Canberra Times gets results. The traits most sought after in staff is flexibility and a willingness to learn.
In BoA's early days marketing was through magazine ads in trade journals and sports mags. These days aggressive branding through packaging and delivery trucks is used as well as catalogue product placement and sponsorship of Tony's beloved Canberra Capitals (Tully Bevilaqua was answering the phones on reception as we left).
When we asked about local Government policy Tony expressed his horror at the demise of Business ACT in the last budget. He had found them to be very effective in supporting projects which had lead to more Canberrans being employed. Additionally they had effectively encouraged network effects between local businesses. The massive slash and burn has seen an end to that which Tony felt was to Canberra's detriment.
On the federal level he was thrilled with the Free Trade Agreements negotiated by the Howard Government which had opened up markets for BoA bottles. He wistfully wondered what life would be like under a flat tax system liberating business from the vagaries of the current tax system.
Aside from bottles BoA has worked on developing bottle related accessories. Next time you watch a Brumbies game have a look at what the drink carriers carry the water out in.
---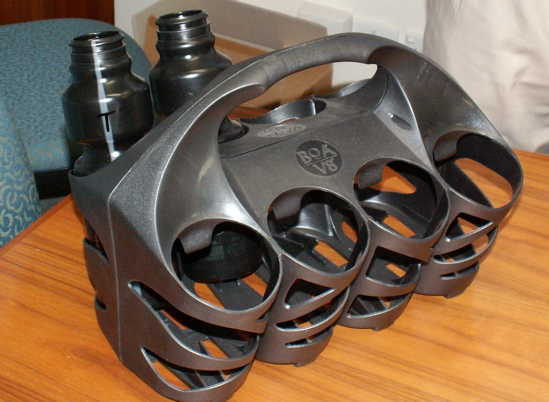 [Bottle carrier]
The V8 bottle carrier was designed with help from the design faculty at the University of Canberra.
Interestingly Tony was very keen on handling efficiencies. He makes a compelling argument that a lot of businesses fail to account for the cost of making staff move product around through inefficient storage and handling. We were impressed with the way stock at BoA moves smoothly from one end of the building to the end.
Looking ahead he felt the biggest risk facing BoA was staffing. Finding good people and hanging on to them. In the current environment with the public service recruiting heavily for high wages it's hard to find good people for junior roles.
In terms of business philosophy Tony compares business to a trip to the casino. But encourages people to take a risk and not be too downhearted if the risk doesn't always come off.
Here's Tony and his wife and partner Mary at the doors of the BoA building.
---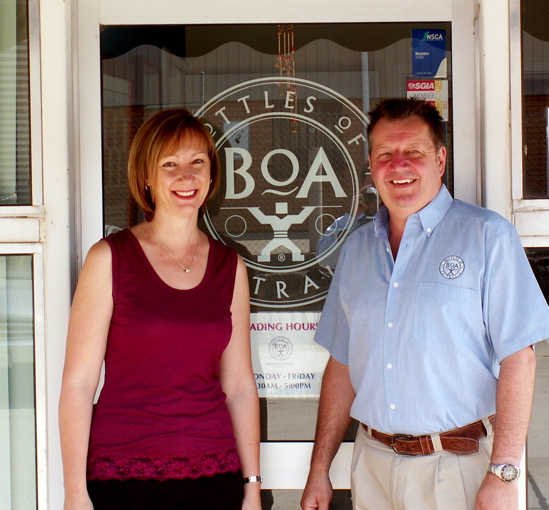 [Tony and Mary outside BOA]
* RiotACT receives no inducements or considerations to produce business profiles. In this case we approached BoA for the interview. If there's a local business you'd like to know more about email business@the-riotact.com with their details and why you think they're interesting.