Once upon a time the alleyway off Fat Bottom Bunda Street next to Blades was adorned by a large piece of wordy graffiti which showed a mangled version of Jim Morrison's line from An American Prayer.
"Do you know we are being led to slaughters by placid admirals

& that fat slow generals are getting obscene on young blood
It was up so long it should have been heritage listed but it smacked a little too much of free (if not original) thinking so it had to go and be replaced by something.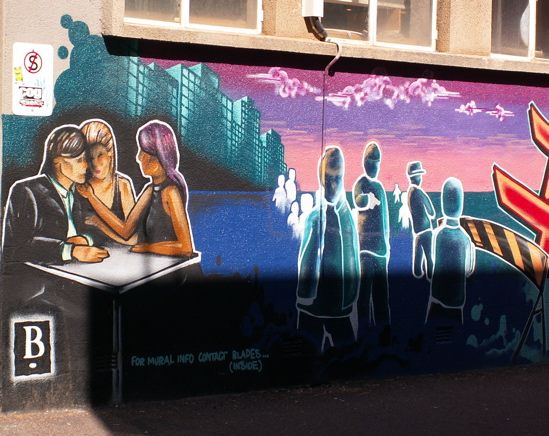 In the wake of this week's controversies surrounding the destruction of public art by the Liberal MLA Steve Pratt simply because he doesn't like it I thought this one was worth a look at.
I really admire the way it sends such a clear message of "Want to get girls? Better dress sharp!". Blades wouldn't have been allowed to put up a billboard this size but they've actually got some very powerful advertising going here.