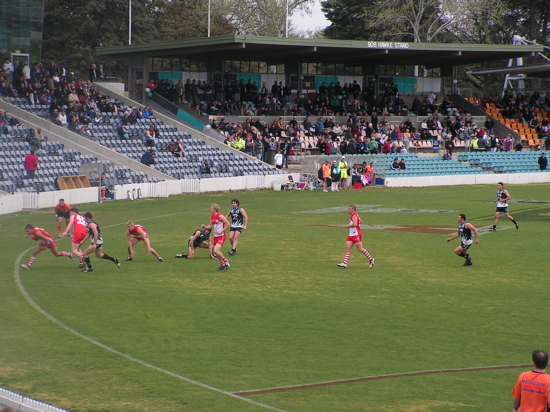 [Ed- Picture courtesy of Bonfire]
The Sydney Swans reserves have thrashed the Belconnen Magpies to become back-to-back ACTAFL premiers. The Swans won 10.16 (76) to 6.7 (43). The win good be a good omen for the Swans first grade team, who won the AFL Grand Final last year after the Swans Reserves won the ACTAFL Grand Final.
Based on the scores at each break, it looks like the Swans dominated the entire match, but were terribly inaccurate with their kicking (excusable given the strong winds)…Belconnen had a decent start, they were level with the Swans at quarter time, Sydney 2.6 (18), Belconnen 3.0 (18), but from there on it was all the Swans.
The second quarter saw the Swans score five time, with the Magpies only scoring once, the Swans led by 19 points at half time, 6.7 (43) to 4.0 (24).
Weekly Newsletter
Every Thursday afternoon, we package up the most-read and trending RiotACT stories of the past seven days and deliver straight to your inbox..
The third quarter saw a minor comeback from the Magpies, but the Swans were still in control, the Swans scored 10 times (only goaling from three attempts) whilst the Magpies could only score four times, and goal once. At three quarter time the Swans led by 35 points, 9.14 (68) to 5.3 (33).
Belconnen appear to have had a better last quarter than Sydney, but it was too little, too late. Belconnen scored five times, and kept the Swans to three scores. At full time it was the Swans winning by 33 points, 10.16 (76) to 6.7 (43).
According to the Swans Reserves website, the goal scorers were as follows:
Swans: Spriggs 2, Currie, Laidlaw, Phillips, Rowe, Simpkin, Thornton, Vogels, Wall. Belconnen: Knowles 2, Bennett, Turnbull, Weston, York.
Best on ground for the Swans was Bevan, and best on ground for the Magpies was Braton.