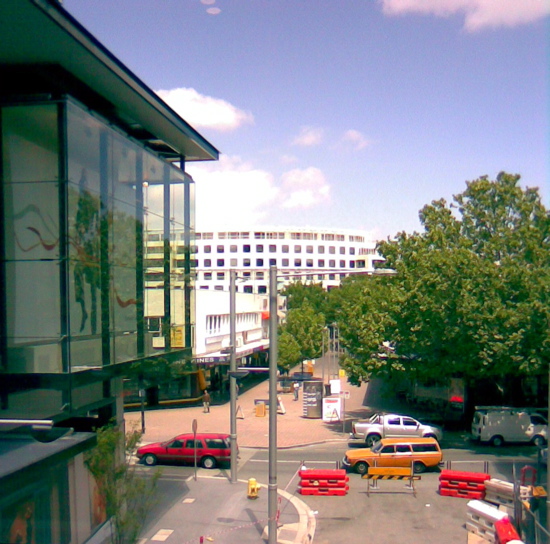 [Garema Place from the expanded Canberra Centre]
I know it's more than a little late in the piece to have misgivings, but I'd just like to ask now that it's too late: What the hell are they doing to Civic?
The expansion of the Canberra Centre is big, I would suggest that those downplaying its size haven't walked the length of both levels. While it's funny to hear that the roof leaks, it seems likely these teething problems will eventually be fixed. Things in this hulking arcology do seem to largely be bigger and better than their competitors in Garema Place, City Walk and the Melbourne and Sydney buildings. Will I go to Dymocks when the enourmous Borders is just around the corner? Will I go to the ever crappier Greater Union when the 8-screen Dendy Cinema is just upstairs?
Probably not, and I actually worry about these things.
So what's the problem?
Well I am not an urban planner. But I do know that most thinking on urban planning, and my own experience, suggests that mixed use creates the most pleasant urban environment. That's a mixture of housing, offices, retail, bars, restaurants and other entertainments. The most pleasant cities tend to have fallen on this model through historical accident.
The Canberra Centre's expansion seems to be directly contrary to this. It's a step back in time to dormitory suburbs feeding the retail zone and it's entirely reliant on cars to move the people from one to the other and back.
To be honest though the thing that bugs me the most is the way the centre is going to suck the life out of the public domain.
Let's not overly romanticise Civic's past. It's very rarely functioned as much of a city centre. But at it's best it is still a place where people can see, and be seen, in public.
You can stage a protest, I can report it, passers by can see it and join in if they agree (or disagree).
Within the sterilised and air-conditoned centre there is no public discourse. As RiotACT discovered you can't even get permission to take photographs inside the centre. You can't even be refused permission and get a reason why, you just get run around and blanked.
It's too late now. But I think in 20 years time people will look back at Section 84 and view it as one of the biggest failures of planning in Canberra's very poor history since the abolition of the NCDC.