You may remember a competition in September for designs to be painted on traffic controller boxes. Well, 30 of the 50 entries received were chosen and work has begun at intersections in Belconnen, Woden, Ainslie, O'Connor and Dickson. Twelve of the boxes have been finished, including this one on Aikman Dr, Belconnen, which is called "Green Poles".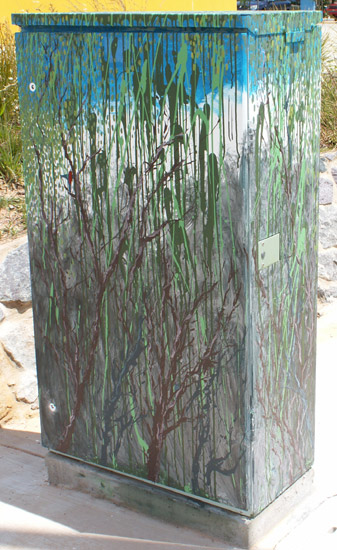 It turns out the competition did not end with the choosing of the artworks. After all the boxes have been painted, a panel of judges, including Becky Hoffman from Belconnen Community Service, Emma Epstein from Canberra Museum and Gallery and Rod Quinn from 666 ABC Canberra, will choose winners in various categories.
All the boxes are to be finished by 30-NOV-05, but even in their half-finished states they are quite pretty, like "Colours of spring", below.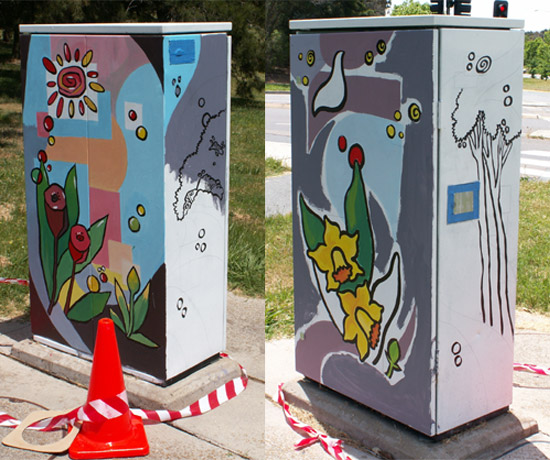 The third box in Belconnen is on the corner of Belconnen and Benjamin Ways and I suspect this location was part of the inspiration for the design — titled "Fruit and veges".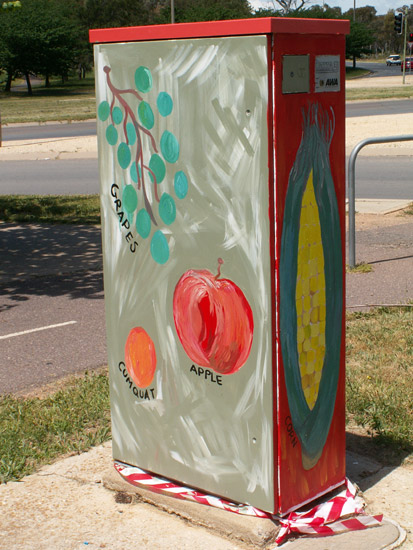 Now there's another 27 boxes out there in various stages of being painted and, since I don't want to make a special trip to the other side of Canberra, perhaps some of you who live or work southside can email photos of them to johnboy@the-riotact.com to be more Images of Canberra. To find out where they are, you can either ring Canberra Connect on 13 22 81 or click here for a copy of the list the kind lady at Urban Services sent to me very promptly after I rang this morning.