Come and join Kempsey & friends to launch their EP "A collection of colour and thought" on Fri 8th December from 6pm onwards at the Woden youth centre!
$15 at the door will get you – entry to 4 of Canberra's finest bands, a copy of Kempsey's new EP "A Collection Of Colour And Thought" a copy of the old Never In Doubt "The Victorious Can Dream" EP, and sweet new Kempsey stickers.
If you can't afford $15. it is $7 entry without all the goodies.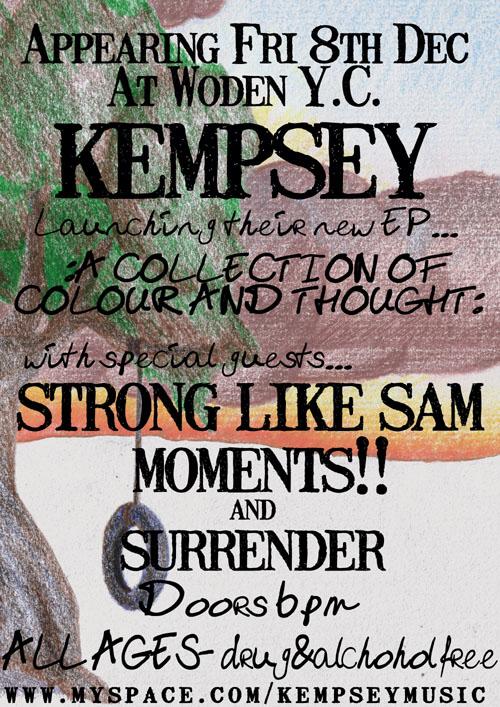 KEMPSEY has just finished the its next project at Sing Sing Studios in Melbourne. With their 3rd EP employing the likes of Motor Aces Patrick Robertson as producer, and multiple ARIA award winner Paul McKercher engineering, KEMPSEY is bound to make a gigantic splash with national touring and CD distribution. KEMPSEY looks forward to meeting your ears.
Declared Canberras premier punk rock outfit by BMA Magazine, KEMPSEY delivers a high-energy blend of rock and pop with traces of melodic punk, which proves theres more to Canberra than politicians and metal heads.
The last year and a half has seen KEMPSEY transform from a prominent rock outfit, into one of the ACT's leading musical talents. 2005-2006 has seen the band play supports for international acts No Use for a Name, Against Me! And Fonzie. They pumped audiences at Indy fests, MIC Festivals, benefit shows for community services, Tsunami relief and104.7fms Snow in the City. The years have also seen KEMPSEY play shows with some of Australias best known punk, rock and hardcore bands, such as Kisschasy, Grand Fatal, Horsell Common, Angelas Dish, Unpaid Debt, The Superjesus, Love like Electrocution, Last Years Hero, Staying at Home, Wishful Thinking and along the way, captivate audiences in Melbourne, Sydney and regional NSW.