This morning Chief Minister Jon Stanhope unveiled a new public artwork in Manuka.
The privately commissioned work, called "Gather", is by Brisbane artist Matthew Tobin. He was also involved in the design of the police memorial.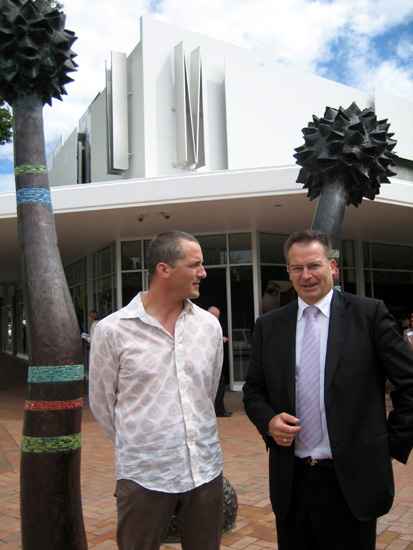 Mr Tobin said he was inspired by the seedpods of the maple trees around the Manuka shopping area. He said when he initially visited the area, he picked up some of the spiky pods and then imagined that kids like his own would gather the pods and play with them while waiting for their parents. He hopes his sculpture will be embraced by the community over time and eventually become a landmark.
The Chief Minister described the work as "engaging, attracting, attractive and with a touch of whimsy". He also said he looks forward to a time when all developers will put public art in their new developments.
The government will launch an action statement on public artwork next month, which will include an outline for a plan to encourage more privately commissioned works.