Today the little-publicised grand reopening of the University of Canberra's Students' Association took place. The UCSA's offices were renovated during the mid semester break and now comprise of two lounges and (as far as I could tell) a cupboard where the committee members have desks.
The UCSA invited ACT Education Minister Andrew Barr along to formally open the offices and indulge in some Xbox playing with UCSA President Marc Emerson (pity only one controller worked…).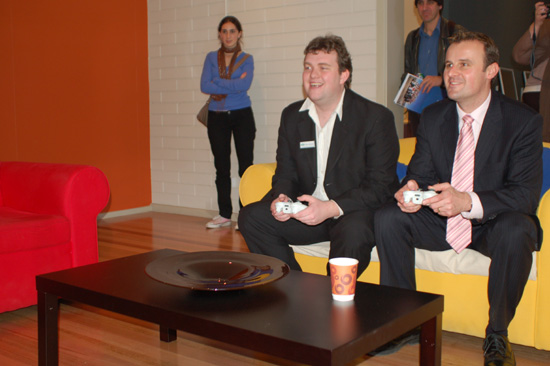 Before cutting the ribbon, Mr Barr said it was important that students' associations provide services that students want and that they should always be run by students for students. I thought this sentiment was interesting given the key features UCSA is using to sell its new premises (and encourage students to actually join up in this new age of VSU) are the Xbox 360, big screen plasma televisions with Foxtel, comfortable couches and an espresso coffee machine.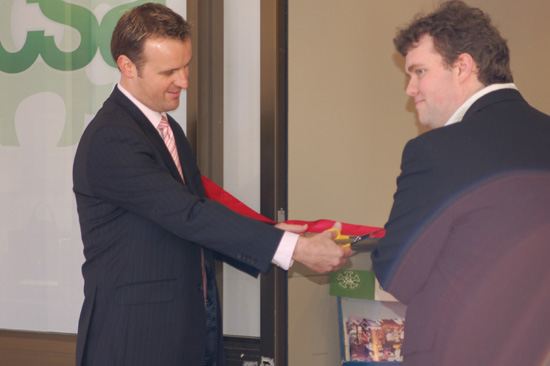 Mr Emerson told me the association had decided it was going to "go out with a presence and a bang if that's what happens" and that the money spent revamping its image was because they decided they would have to do something "innovative" in order to attract members. He said the renovations were their way of "not denying that VSU happened". Mr Emerson declined to say how much the renovations cost, saying only that it was "not a small investment".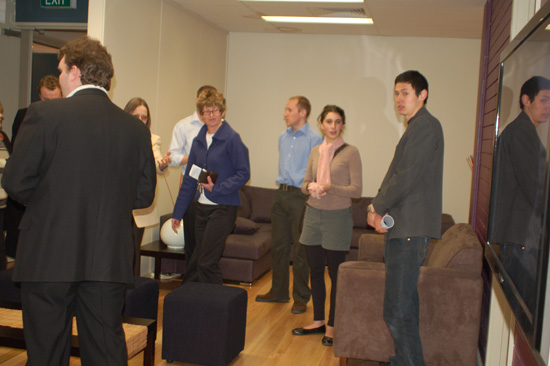 As well as the above mentioned attractions, the new Students' Association will provide student advocacy services free to members or at a rate of possibly $72.50 per hour to non-members (that figure is from their press release, but yesterday I read in Curio, their own publication, that it would be at $50 per hour). Given membership is only $50 per semester, joining up if you need advocacy services is the far better deal (which is what they're aiming for I think). Membership also gives students access to the lounges, subsidised printing, photocopying and fax services and various other facilities. Interestingly, as part of the renovations the front door and windows have been covered with a translucent white material (and the back windows covered with plain white sheets of A4 paper) so non-members can't even see what they're missing out on. Members will be issued with a swipe card which gives them access to the rooms.
As a UC student, I had not yet heard anything about how to join the students' association (which I'm probably inclined to do), even though I would have thought letting people know this should be their first priority. I was told today by the receptionist that invoices for this semester's membership would be sent out to all students in the next couple of weeks, including information about what UCSA does. Mr Emerson said they would be holding a publicity campaign "over the next few weeks" (though I must say I haven't always been aware of their campaigns except for having a friend in the SA).
There will also be an option for non-students to join as "Friends of the Association". Mr Barr became the very first of these Friends today after he opened the centre.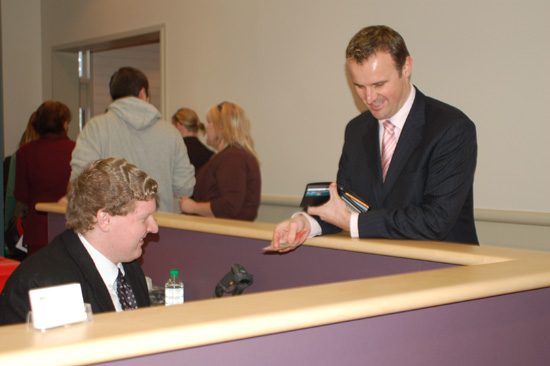 PS Mr Barr and his media advisor and another advisor (who was an ex-UCSA member) all promised me we would have his answers to our questions by the end of this week.