A night of great Latin American food, music and dance to raise funds for a great cause!
Saturday October 11th – 6pm to midnight
John The Baptist Church Hall (Reid) Crn Constitution Av & Anzac Park
Come and join us for a great night of music and dancing! There will be authentic Colombian and Latin American food, raffles and entertainment featuring from the local Mangangue Colombian Folk Dancing Group, classic Latin American songs from the 60's & 70's sung by Tony Longo, plus DJ's Frank Madrid, Mario 'Brujo' Gordon, and Hieronymus IX playing latin, cumbia, salsa, reggae & more to keep you dancing until midnight! All funds raised will go toward funding a primary school and refuge home in Colombia.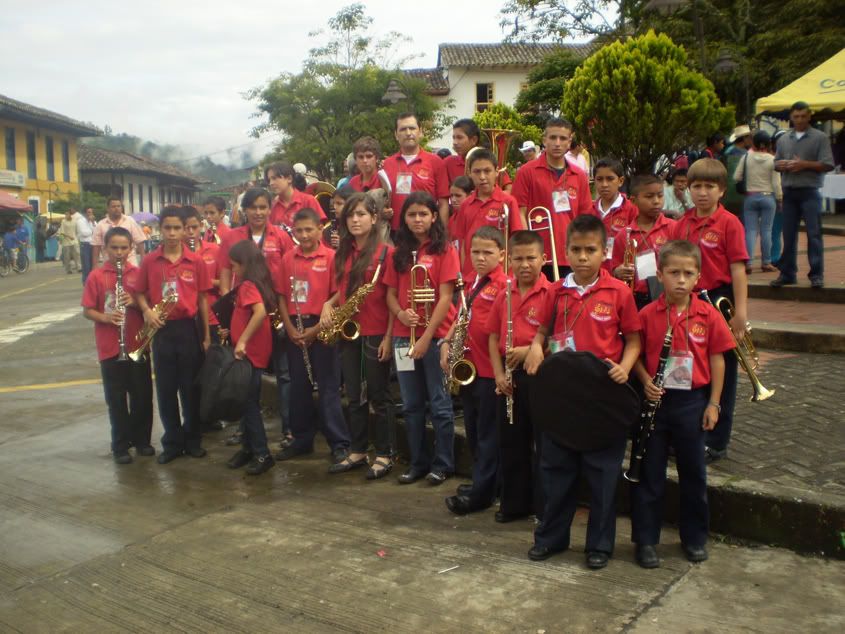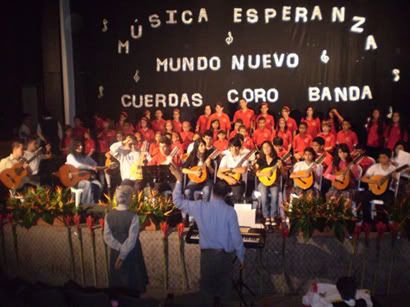 [Pictures: Students of the Musica Esperanza Music Program (Colombia)]
"Musica Esperanza" is a charity program which was started by an Argentinian concert pianist and social activist Miguel Angel Estrella. The program is aimed at using the power of music and dance to better the lives of disadvantaged school children.
In 2006 a Colombian branch was established in Mundo Nuevo, a settlement near the city of Pereira. This branch provides music instruments and classes for the school children in this area, offering them an opportunity to develop their talents. These classes help students gain self-confidence in addition to keeping them off the streets. Music gives them hope, stimulation and skills while also providing relief from their troubles and the poverty that surrounds them.
In 2008, a dance program was established at the school. Funds were raised in memory of local Canberra street performer Ali Parraga ("Silverman"). Music and dance was his passion and it was his wish to spread their positive power to more people. As a result his family linked up with the Colombian branch of Musica Esperanza to establish a specific dance program at Mundo Nuevo rural school.
This event is raising money to pay for the continuation of these dance classes that compliment the established music program. Money raised will help pay for the dance instructor salary, costumes and transport for the children to perform their songs and routines publicly in their community.
If enough funds are raised they will also be used to help support a homeless refuge located in the town of Cartago that provides shelter and care for sick, elderly and people suffering from mental health issues. They are severely under-staffed and under-supplied and badly in need of any support.
Come and enjoy a great night of food and entertainment for a great cause!
Featuring: Food and drink for sale, Mangangue Colombian Folk Dancing Group, Tony Longo (Live Colombian Folk music), DJ's Frank Madrid, Mario 'Brujo' Gordon & Hieronymus IX, Raffles & video presentation
Saturday October 11th – 6pm till Midnight
$10 per person, $25 for families (children under 12)
Church Hall (St John the Baptist), Crn Constitution Av & Anzac Park, Reid
Contact:
Rafael Florez : crimson_robe (AT) yahoo.com
Hilda Parraga : hilamm2 (AT) yahoo.com