We knew there were at least two protests scheduled today at Parliament House, but it turned out there was a whole lot more going on in the nuthouse that is Federation Mall.
What follows boys and girls are a few of the reasons why the people who actually work in the big house on the hill have their own private entrances around the back of the building.
First up was the protest against IR reforms. Their press release promised a mock sweatshop, which I though sounded promisingly photogenic. When I turned up at quarter to ten (it was due to finish at 10am), there were two other photographers there taking pictures of the "sweatshop", and I just managed to get this one in before they disbanded.
Weekly Newsletter
Every Thursday afternoon, we package up the most-read and trending RiotACT stories of the past seven days and deliver straight to your inbox..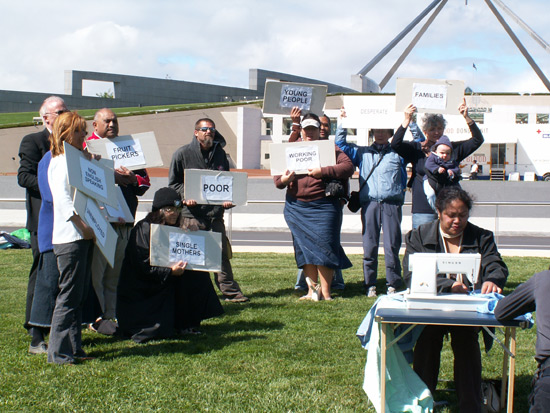 Yes, that's right, that single sewing machine in the bottom right corner is all there was. I was thoroughly disappointed; I would have thought all 11 of the people there could have gotten involved too. Anyway, once I established my credentials ("Tell me again what this riot thing is?"), they gave me my own photo op.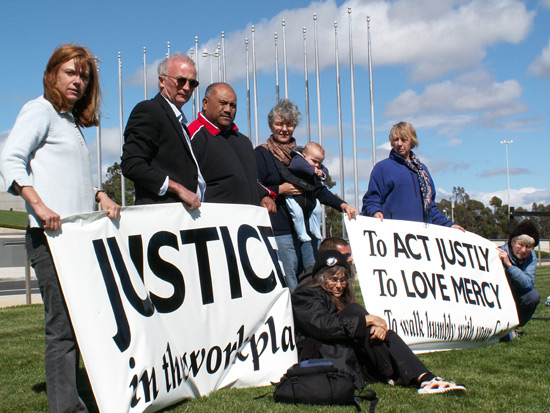 The banners they're holding here were mounted on posts stuck into the ground, but they decided to move them around to face the other way for my photo. Just as they were taking them down, one of the Protective Services officers who had been lurking on the side came over and said he had forgotten to tell them before that they weren't allowed to erect anything on Commonwealth land (I think) and that they would have to hold the banners.
The other thing I noticed this morning was the mobile blood bank had taken up residence on the forecourt of Parliament House, thus ruining the vista for all tourists. It was suggested that possibly the politicians had requested the van go there to block out the plethora of protests.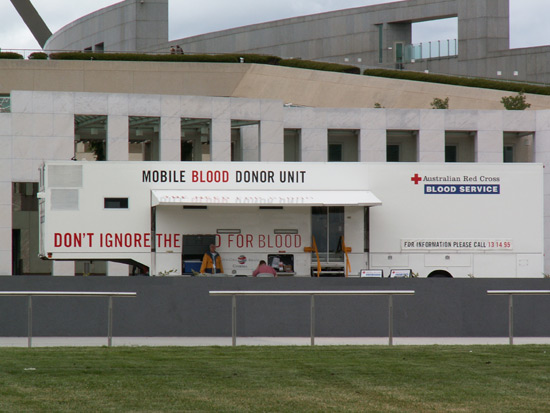 As I was leaving from this first visit, I noticed some more protestors arriving with wooden billboards. These turned out to be the Falun Gong protestors, which may partly explain why I had a petition/form letter to Alexander Downer about the practitioners shoved into my hands at the IR protest. Anyway, here is a picture of them later in the afternoon.