Imagine waking up on Easter Sunday morning with a car wrapped around a tree in your front yard and police having closed the whole street off.
That was what happened on Majura Ave, Dickson in the early hours of this morning.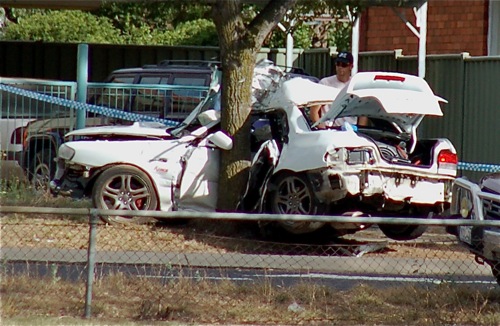 There is no story on the ABC news website at the time of writing, but their radio news was reporting the car only had one occupant who has been taken to hospital in a serious condition.
The road was still closed at 10.20 although the tow truck arrived around 10am.
[Ed – The only professional media on this to date is the ABC stub refered to in the comments and found here. As far as all the speculation goes there is no official word that the driver of this vehicle was under the influence of alcohol or illegal substance. it should be noted that this is an open site and everyone is entitled to there own opinion. That having been said please consider your words and their effect on others and don't engage in threats, abuse, flamewars, etc or the admin staff will have to take action up to and including banning users.]